Picture-Perfect Uses of Instagram
Since we last spoke about photo-sharing app Instagram's growth back in July 2012, the platform has undergone a range of changes:
– Websites such as Pinstagram are no longer needed due to the introduction of Instagram's web profiles
– The effects of Facebook's acquisition of the app are becoming more obvious, especially with the introduction of Instagram's new 'Add people' / 'Photos of you' feature last week – very similar to Facebook's photo-tagging system
– Instagram now boasts 100 million monthly active users, with 40 million photographs uploaded every day and 1000 comments made per second
Fortunately there are just as many, if not more, Cats of Instagram as before…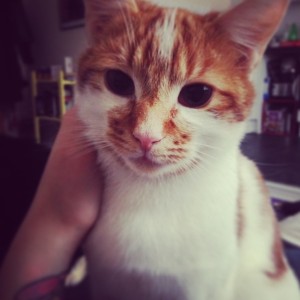 Instagram has proved its staying power as one of the biggest social apps and this means that if it's not part of your PR and social campaigns, you're probably missing out on a huge demographic. So, who's using Instagram, what are they doing and why does it work?
Michael Kors #FallingInLoveWith
To celebrate Valentine's Day 2012, fashion brand Michael Kors launched its #FallingInLoveWith campaign with support from Fanbase Media. As part of the campaign, Instagram users were asked to take a photo of a Michael Kors item that they covet and upload the photographs to Instagram with the hashtag #FallingInLoveWith. Users posting with the hashtag were given the opportunity to win Michael Kors products, and all images uploaded were pulled through to a dedicated website. #FallingInLoveWith is a clever campaign encouraging fans to showcase Michael Kors products themselves, rather than the brand doing so. The chance of winning is an additional incentive to post photos – more than 1,700 photos have been uploaded using the hashtag. Giorgio Armani launched a similar campaign to showcase its range of sunglasses entitled Frames of Life, which received more than 3,000 images uploaded with the #FramesofLife hashtag.
Kate Spade
Rather than focusing on one specific campaign, fashion brand Kate Spade's Instagram posts engage users with every photograph. Whereas Kate Spade would be likely to create a lot of buzz just by posting photographs of products, the team post more photographs of behind-the-scenes happenings, food, New York (where the brand is based) and seasonal images, such as these Easter egg-dyeing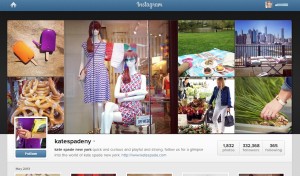 pictures – all of which promote the brand's values of colour, playfulness and fun. Instead of showcasing this season's colours using fabric swatches, Kate Spade posted a picture of ice lollies to do so and by posting images such as this four o'clock life saver, the brand makes itself seem approachable, down-to-earth and friendly. Kate Spade's fun strategy is certainly working – the brand has over 332,000 followers on Instagram.
General Electric
While Instagram consists of mainly photographs of fashion, food, faces and cats, General Electric (GE) have created a surprisingly engaging feed. For example, a photograph of wind turbines in California received over 1,400 likes and a behind-the-scenes image of aviation expert Daniel Kerr received over 700 likes while showcasing some of the things that go on behind closed doors at GE. The GE feed makes technology and learning interesting and proves that Instagram lends itself to any subject if the team behind the photographs are creative enough. The GE Instagram has over 131,000 followers.
Comodo
Despite the trend of eateries shunning smartphones, New York restaurant Comodo launched an 'Instagram menu' last year, encouraging visitors to snap photographs of their food and post them to Instagram with the hashtag #ComodoMenu. Anyone that uses Instagram knows that it's full of foodie pictures and it's smart of Comodo to jump on this trend – Comodo added the #ComodoMenu hashtag to its menus and lets new patrons know to check the hashtag if they can't decide what to order. The #ComodoMenu hashtag currently boasts over 900 images (warning: do not view on an empty stomach).
Nike
To promote its NikeiD customisable creations, Nike launched a clever PhotoiD campaign which allows users to log-in to its site and create a unique shoe based on their Instagram photographs. To create a shoe, users must visit http://photoid.nike.com and log-in to Instagram. You can then choose one of your Instagram photographs (Nike asks you to confirm that you own the images before you progress) and a style of shoe, and Nike will create a completely unique shoe based on your image! Your individual shoes can be shared directly to Instagram, Twitter, Tumblr, Pinterest, Google+ or Facebook directly from Nike's site and users can even buy the shoes they've created. Here are a few examples of creations made with the Nike PhotoiD site –
Despite being a basic photo-sharing app, Instagram is a versatile platform that – as you can see – is being used by social media teams in a variety of ways. What's your favourite Instagram campaign?