The Snappy Rise of Instagram
Since its launch in October 2010, popular photo-sharing app Instagram has grown in users and popularity – just this week the app has reached a whopping 80 million users who have shared more than 4 billion photos.
(Sadly it wasn't stated how many of those photos were of cats/food/hipsters.)
Instagram has also become a topic of debate among both photographers and social media/app fans – do real photographers use Instagram? Can you believe anything that's posted on the app? Is it the best photo-editing and sharing app, or is Instagram bettered by alteratives like Hipstamatic, Pixlr-O-Matic and Camera+?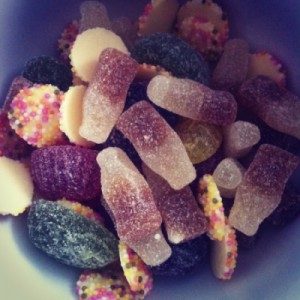 At last count (May 2012) Hipstamatic only had four million active monthly users, so it seems that most photo app users are on Team Instagram. I know where my loyalties lie – I love Instagram. I love the filters, I love the social aspect both within the app and sharing to Facebook or Twitter, I love the use of hashtags and the new search features and I love the photos of cake. The only feature that I dislike is the way that Instagram crops photos into a square – like many users, I often take photos using my iPhone's camera and then edit and share via Instagram later, so sometimes I end up cropping out details that I'd rather keep. This is where apps such as Pixlr-O-Matic come in handy, although it doesn't allow the same in-app photo-sharing capabilities.
Instagram is great by itself, but even better to use with other apps and social sites. Users (myself includes) often use photo cropping apps such as Diptic to combine photos before laying a filter over them all, or share directly to Twitter and Facebook. Before its acquisition by Facebook, sharing photos to your newsfeed was clunky and awkward – users would often forgo Instagram's direct sharing to save the photo and upload it to Facebook through its own app.  But now photos upload directly into their own Instagram Photos album, making sharing quick and easy. There are also apps to view photos away from your device, such as desktop apps or my favourite, Pinstagram – a mash-up of Instagram and Pinterest: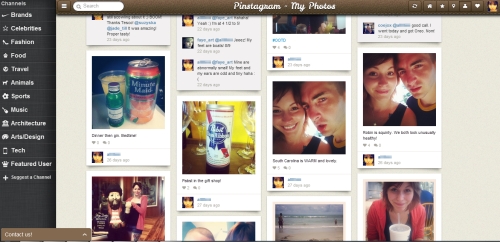 A variety of brands are using Instagram to great effect, too. Burberry presented its Instagram followers with a live feed of shots from its September shows – the Instagrammed shots were available before any other images surfaced. Tiffany's also used the app in its recent 'What Makes Love True' campaign, teaming up with well-known blogger The Sartorialist to document shots of 'true love' in New York and Paris and offering its own downloadable Instagram filter. Sharpie uses Sharpie-drawn images and other topical and funny photos to encourage conversation in a much more engaging way than just posting product images.
Instagram has also become a parody of itself – the Rich Kids of Instagram Tumblr pokes fun at Instagram's more well-to-do users, the Text-Based Instagram Twitter feed parodies some of the most commonly posted pictures and Twitter user @santlov has even got Woody in on the action…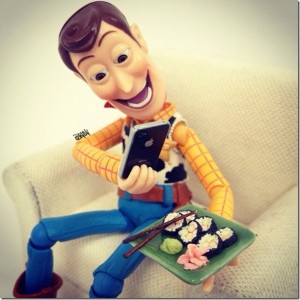 Having gained 30 million users since April 2012 and showing no signs of slowing down, Instagram has cemented itself as a must-have app on both iPhone and Android – who are your favourite Instagram users?