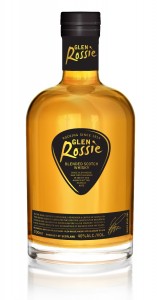 We're delighted to be working with new client Glen Rossie, one of the oldest whisky brands in the world.
It's being given something of a brand overhaul with a new label, new bottle and a new chairman – Francis Rossi, frontman of rock band Status Quo (insert your own Scotch on the rocks pun).
The new bottle and logo is pretty neat with a plectrum-inspired label.
When we heard that just 50 first-run, signed and numbered limited edition bottles were being produced to re-launch the whisky, we arranged for bottle No 10 to be biked to David Cameron, as a housewarming gift for his new residence at No 10 Downing Street.
In our PR stunt, we added that we hoped the gift would help to maintain the political status quo in the new government.
With Dave owning bottle No 10 and bottle No 1 fetching £7,000 at charity auction, they're becoming something of a collector's item and we've got 30 of the 50 special, limited edition bottles up for grabs at www.glenrossiewhisky.com