Umpf's Favourite #AprilFools PR and Social Media Stunts 2016
Welcome to the 2016 round-up of our favourite April Fools' Day PR and social media stunts!
Got a favourite that we've missed? Let us know on Twitter: @Umpf / @GrittAlessandra
Leger Holidays
JUST LAUNCHED: Hit the track with our brand new tour experience! https://t.co/F1C81VV4Gt #F1 #LegerTrackDay pic.twitter.com/eghpXJR84l

— Leger Holidays (@LegerHolidays) March 31, 2016
Coles' #HoverTrolley
Introducing Coles NEW hover trolleys! Gliding into a store near you soon…#hovertrolley pic.twitter.com/eX3NabBcoI

— Coles Supermarkets (@Coles) March 31, 2016
Virgin Trains East Coast's #FlyingScotsman
Travelling on our Virgin Trains #FlyingScotsman? Swap your laptop for a shovel to receive a 25% fireman's discount! pic.twitter.com/A6t0kY2IdA

— London North Eastern Railway (@LNER) April 1, 2016
Skoda #bonedry
Cute dog points for Skoda #bonedry pic.twitter.com/JGppHGLsMk

— Alessandra Gritt (@GrittAlessandra) April 1, 2016
Leeds City Council's River Monster
River monster spotted in Leeds. Residents advised to stay calm and to not approach. Please see artist's impression: pic.twitter.com/aAqyxCk9Qu

— Leeds Council Help (@LeedsCC_Help) April 1, 2016
Firebox's Netflix and Grill
https://twitter.com/caragoesawol/status/715807614714658816
Domino's Domimaker
Pinpoint pepperoni placement! Watch the #Domimaker in action! Find out more: https://t.co/QnBEjAVtiPhttps://t.co/ya9iZzEc47

— Domino's Pizza UK (@Dominos_UK) April 1, 2016
GAME's Thumb Insurance
We're proud to announce #GAME Thumb Insurance – £3 a month to cover your most important gaming asset! pic.twitter.com/OvGFUPfZyI

— GAME Shrewsbury (@GAMEShrewsbury) April 1, 2016
Tube Map App's US-Friendly Petition
Tube Map are holding a petition to rename the #London Underground the London #Subway to make it more accessible for American tourists.

— Tube Map (@TubeMapLondon) April 1, 2016
First Direct's #SaveZap
Can't stop that reckless spending? Meet #savezap, our shockingly good solution…https://t.co/jo777ULLj0https://t.co/xIh4fceGJx

— first direct (@firstdirect) April 1, 2016
Surfdome's #YeezyFLWTR
Introducing – The #YeezyFLWTR

Read more > https://t.co/1SxK8Zn9wr < pic.twitter.com/OIgVu65ogt

— Surfdome (@Surfdome) April 1, 2016
Honda's Emoji Plates
The April Fools' story from @Honda VERY nearly had me… Emoji license plates: pic.twitter.com/xubmHbCgK8

— Monty Munford (@montymunford) April 1, 2016
Sealy's Snore-Blocker
Have you heard about our new Snore-Blocker? Get ready for an undisturbed night's sleep! https://t.co/UJ3gGgf8rZ pic.twitter.com/UeC918I6rQ

— Sealy UK & Ireland (@SealyUK) April 1, 2016
McDonald's McMoon
RT for the chance to be our first #McMoon customer, preparing for lunch in 2017! https://t.co/IE5I6KrrpK

— McDonald's UK (@McDonaldsUK) April 1, 2016
Firebox's i-Dodge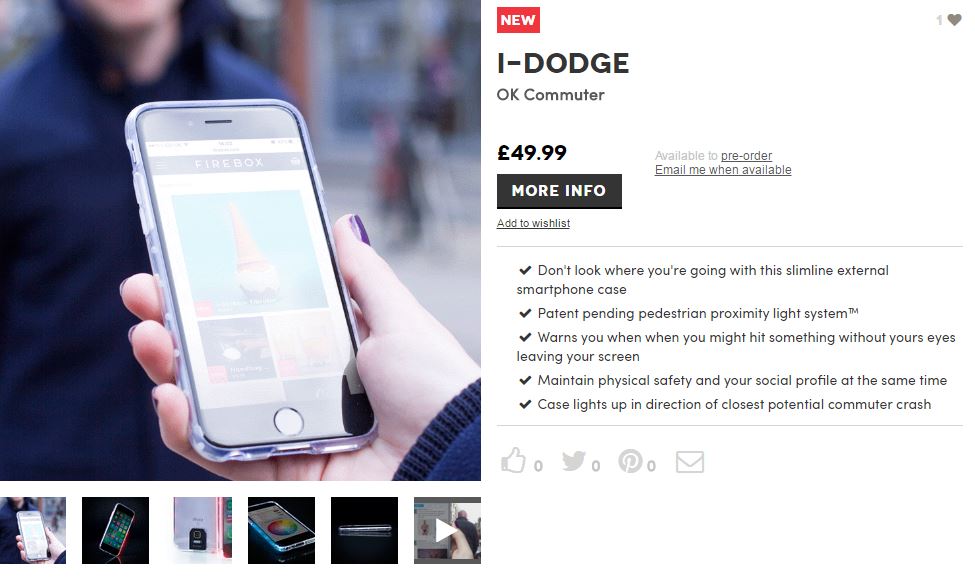 'Available' online here.
River Island's #ToteInACoat
Introducing the solution to all your shopping dilemmas…#ToteInACoat ?https://t.co/3TrYdAXBXk pic.twitter.com/XdmkHFtgGW

— River Island (@riverisland) March 31, 2016
Soap & Glory's Kaleido-Lips
Introducing our brand new SEXY MOTHER PUCKER™ KALEIDO-LIPS™ super-shine lipstick >> https://t.co/7BI6kTit0t. EEK! pic.twitter.com/xjbczJPr04

— Soap & Glory (@SoapandGlory) April 1, 2016
Huel's Nutritionally-Complete
After a lot of thought and trials we are so excited to present to you our nutritionally complete Huel crisps. pic.twitter.com/DNS3GBlrl3

— Huel (@gethuel) April 1, 2016
Porn Hub's #CornHub
https://t.co/bsJXhCfgq4 right now #cornhub pic.twitter.com/SjrNcDfyIl

— Matt Navarra (@MattNavarra) April 1, 2016
Iceland's Therapea Face Mask
Big news!
Introducing the Frozen Therapea Face Mask – an anti-wrinkle mask powered by frozen peas! #PowerOfFrozen pic.twitter.com/bdc9559DFL

— Iceland Foods ❄️ (@IcelandFoods) April 1, 2016
Cisco's FOX
Introducing Cisco FOX: (Facial Overlay on WebEx) – a new era (and face) for collaboration https://t.co/BXCFJmi6q3 pic.twitter.com/8WanflE6x8

— Cisco UK & Ireland (@CiscoUKI) April 1, 2016
Santander's #Santandem
Double the fun! #Santandems are coming soon ?? pic.twitter.com/MB3Mh4HfSD

— Santander Cycles ? (@SantanderCycles) April 1, 2016
Pizza Express's Cutlery-Free Restaurants
Last year you told us you prefer eating with your hands, so we've banned cutlery. Watch video for instructions.https://t.co/xYy31oR4wl

— PizzaExpress ? (@PizzaExpress) April 1, 2016
Hartlepool United FC
Pools players to make football history by wearing fancy dress for game at Plymouth Argyle: https://t.co/xrWmQ2Emx9 pic.twitter.com/SS8WE38y81

— Hartlepool United FC (@Official_HUFC) April 1, 2016
MINI's Hipster Hatch
https://twitter.com/WollastonMINI/status/715825258884898816
Google's Self-Driving Bicycle
We're excited to introduce the self driving bicycle. #selfdrivingbike

Learn more here – https://t.co/34gYXnVWKb pic.twitter.com/w4WILIdRHY

— Google UK (@GoogleUK) April 1, 2016
Marshall Amps' JCM8000
Introducing: The Marshall JCM8000. You said the JCM800 was too quiet, so here's something louder #liveformusic pic.twitter.com/giGKdnXEDH

— Marshall Amps (@marshallamps) April 1, 2016
E4's Rescheduling
We regret to inform you that #Supernatural S11 will NOT air on E4.
This paranormal thriller will replace the show. pic.twitter.com/kPs4wcVYDA

— E4 (@E4Tweets) April 1, 2016
Virgin Active's Personal Trainers
"Sweat is your fat crying": trainers which talk to you. Our #PersonalTrainers range, coming to a club near you soon pic.twitter.com/SVRCNKoNG2

— Virgin Active UK (@VirginActiveUK) April 1, 2016
Deliveroo's #TeleOrder
Free up your time and hands with our new telepathic ordering system #TeleOrderhttps://t.co/xbwjlXcZCX

— Deliveroo (@Deliveroo) April 1, 2016
Dt Oetker's Savoury Cupcake Centres
We're very excited to announce our brand new range of fish&chip shop-themed Savoury Surprise Inside Cupcake Centres! pic.twitter.com/uAGDYLaMz8

— Dr. Oetker Baking UK (@DrOetkerBakes) April 1, 2016
Angelica's Truffle Bush
To celebrate the harvest of @murdi9000000's truffles from our #trufflebush RT to win 2 Champagne meals with truffles pic.twitter.com/cktULP8jbb

— Angelica Leeds (@AngelicaLeeds) April 1, 2016
Mumsnet's Job Opening
Fancy yourself as the next @astro_timpeake ? If you've got a baby, you're halfway there… https://t.co/bVwn6c3SsH pic.twitter.com/GhUd4ctH3p

— Mumsnet (@MumsnetTowers) April 1, 2016
Rowse Honey's Wasp Blend
Looks like the @DailyMirror fancies trying our new Wasp Honey too! https://t.co/mukPQfOmDa pic.twitter.com/1gPVb3yVki

— Rowse Honey (@rowsehoney) April 1, 2016
Illamasqua's Anti-Troll Spray
NEW LAUNCH ALERT! @jamie_genevieve introduces you to our new launch – Anti-Troll Spray…https://t.co/j36EpsBe5d pic.twitter.com/0k52TO3euj

— Illamasqua (@Illamasqua) April 1, 2016
Netto's Herring Face Mask
https://twitter.com/Netto_UK/status/715796468301479936
Groupon's 'Starkers Strips'
Naked Selfie aid 'Starkers Strips™': Buy One Get One Free on @groupon https://t.co/25kXEJTeoH #aprilfoolsday pic.twitter.com/7aMxsdXecY

— Matt Navarra (@MattNavarra) April 1, 2016
ITV's Corrie Box Set
Announcing the ultimate DVD box set! All 8863 episodes of Coronation Street together in 1 fantastic package. #Corriehttps://t.co/HDHAeE6mtV

— ITV (@ITV) April 1, 2016