Umpf Shortlisted For Nine CIPR Awards, Four Some Comms & Two Dadi Awards
It's been a fantastic month at Umpf towers with our PR and social media campaigns being recognised in various awards across the UK.
Three of the award ceremonies we submitted campaign entries for have now been shortlisted.  And 15 of the 17 awards we entered have made the cut.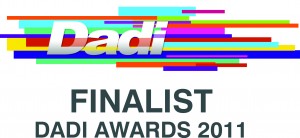 At the end of July, the Dadi awards ("Awarding Digital Excellence") shortlisted both of our entries: The World's First Ouch Map, which we created for Health365.com, is up for best Financial Services Campaign; and our entry for MyJobGroup.co.uk is shortlisted for best Recruitment Campaign.
All four of the social media campaigns we entered into the Some Comms Awards ("A celebration of the best in social media") have also made the cut.  We'll find out on October 19 how our Best Use of Twitter, Best Social Media Campaign (two entries shortlisted) and Best Social Media Agency entries fared.
Then, on Friday last week Umpf was shortlisted for an incredible nine CIPR PRide Awards – among the highest number of nominations ever seen in the Yorkshire & Lincolnshire region*.
The CIPRs recognise excellence, and reward achievement, in public relations and communications.  In the CIPR's own words: "PRoof of your success in the PR industry".
Categories we are shortlisted for include Best Use of Media Relations, Best Consumer Relations, Best Campaign under £10,000, as well as Outstanding PR Consultancy.
And Umpf's younger talent has also been recognised with Jon Priestley shortlisted for the Outstanding Young Communicator gong.
So, three ceremonies down, five to go – the shortlist for the international WOMMY word-of-mouth awards and the social media Social Buzz have yet to be announced.
All-in-all, it caps a fine summer for Umpf which was named in the Top Ten Social Media Agencies by digital marketing business Econsultancy earlier this year – Umpf was the only agency outside London/South East to be included in the list.
*hats off to our comrades over at Finn PR, who were also shortlisted for nine CIPRs – we're the best of frenemies!