Umpf PR Diary – March 2022
Spring has sprung at Umpf HQ – here's what we've been up to!
Streets Ahead at Trinity Leeds
After the success of renaming a street at Trinity Leeds in honour of Leeds United's Marcelo Bielsa, achieving hundreds of pieces coverage from across the globe, another opportunity arose when the much-loved Whites manager left the club at the end of February. The conversation around his departure gave another chance to generate some coverage, following the decision to make the street name a permanent fixture.
The story was picked up across regional titles as well as nationals and international titles.ach of 46m, including The Express.
View this post on Instagram
Shining a Light on Clocks Changing Issue
Ahead of the clocks changing, we commissioned research on behalf of our client 4lite to find out if Brits wanted to scrap the twice-yearly clock change in favour of sticking to British Summer Time, giving us more daylight hours in winter. A staggering three-quarters of people voted in favour of ditching the clock change, with 47% saying it'd reduce their energy bills, and a quarter saying it'd cause less road accidents.
The campaign coincided with news that the US Senate approved a bill to keep British Summer Time – proving there's certainly an appetite for it. The campaign picked up 45 pieces of coverage with a reach of 46m, including The Express.
A Lush Celebration of Wales
Dydd Gŵyl Dewi Hapus! In March we worked with St David's Cardiff to celebrate the best of Wales with a limited-edition make-up palette in honour of St David's Day 2022.
The exclusive Colours of Cymru eyeshadow palette pays homage to Welsh sayings and icons, bringing them to life in 35 vivid colours. Shades include Chippy Lane Sglodion, Green Green Grass, Daffodil, and Billy the Seal as well as the landmarks of Snowdon, Castell Coch, the River Taff and the Gower.
We had to give a nod to Welsh delicacies with Welsh Cake, Bara Brith, Laverbread and Glamorgan Sausage, while translating the Welsh expressions of Cwtch, Cariad, Caru, and Lush into colour too.
The palette was well-received with online and broadcast coverage reaching almost 1 million, plus six regional influencers showcasing the palette and promoting the competition to win one across their channels. The competition, which relied on guests being inside St David's Cardiff to enter, received more than 1,600 submissions throughout the entry period.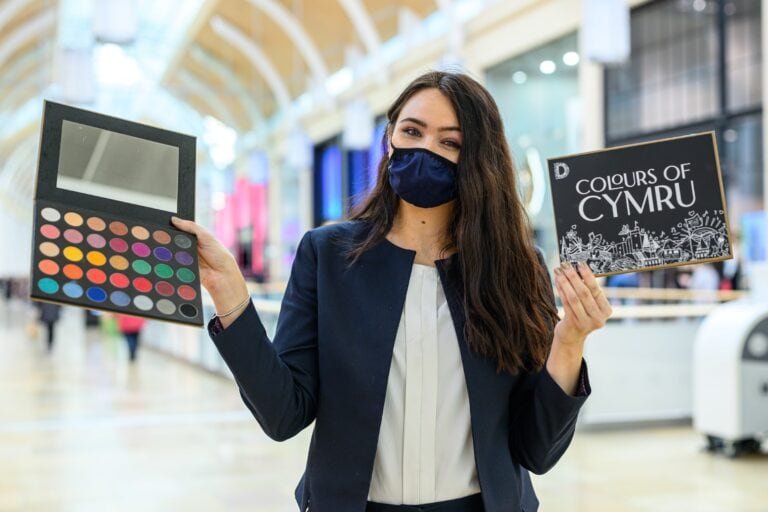 St David's celebrates the best of Wales with Colours of Cymru palette
25 Years of White Rose
This month we've been celebrating 25 years of White Rose Shopping Centre, which opened in South Leeds on 25th March 1997. While the centre hosted a weekend of amazing 90s-themed games, we also marked the occasion with a variety of press office activity.
We arranged media interviews with long-standing centre employees Randolph and Gill, who have both worked within White Rose since opening, and put together a list of little-known facts about the venue. For example, did you know that twice as much steel was used in the construction of White Rose than Blackpool Tower, or that the White Rose site is the equivalent of 246 Olympic swimming pools?
We also hosted a design competition with local schools, asking children to design a special logo for the 25th birthday. The winner, Eva L of Asquith Primary School, was chosen by the centre team, and Eva saw her striking design emblazoned across the centre during the birthday week.
Coverage achieved a reach of more than one million, with two double-page spreads in the Yorkshire Evening Post.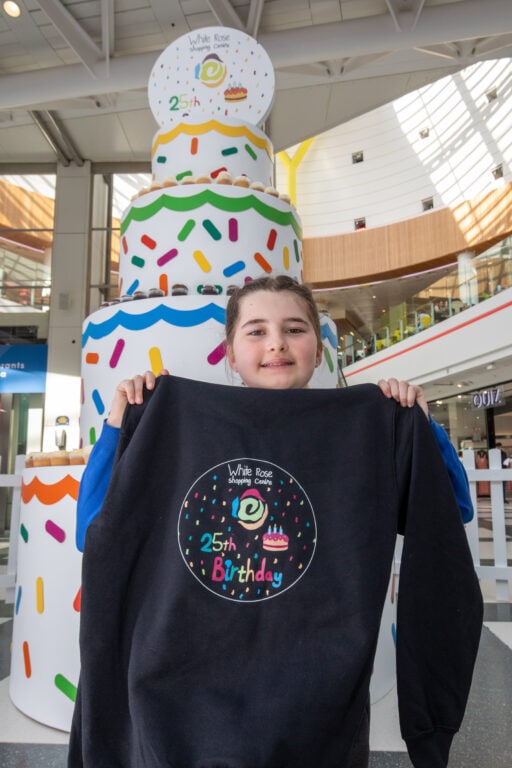 Logo design competition winner Eva L
Time for a Change at Trinity Kitchen
Unique street food concept Trinity Kitchen welcomed some new vendors this month, offering mouth-watering food from rainbow bagels to beef burgers – served from a converted VW camper van, a horse trailer and even a shipping container!
To welcome the new arrivals, we organised a Supper Club event and invited influencers down to try out the dishes for themselves, whilst enjoying top tunes from a DJ, with a few drinks to wash it down with.
Our favourite on the night were the Birria tacos from Jimmy Mack's, but there's plenty more we want to try – and they're here until the end of May, so pop down and give it a go!
View this post on Instagram
We're shortlisted for the PR Moment Awards
While lots of award shows are making the headlines, our headlines have made the PR Moment Awards shortlist. We've been nominated for an incredible eight categories in the 2022 awards, including Boutique Agency of the Year, Integrated Agency of the year, and Low Budget Campaign of the Year, while our Not Just Any Old Iron campaign with Morphy Richards is up for both Integrated Communications Campaign and Media Relations Campaign of the Year.
Tri-Umpf for new business
We're delighted to announce that we've secured four new clients in March, and we will be revealing more information soon… 👀