Umpf PR Diary – August 2023
Despite this summer being filled with slightly less sun than we would have hoped, we're still shining a light on some of our great work during August. Read what we've been up to below…
Summer's Never Tasted So Sweet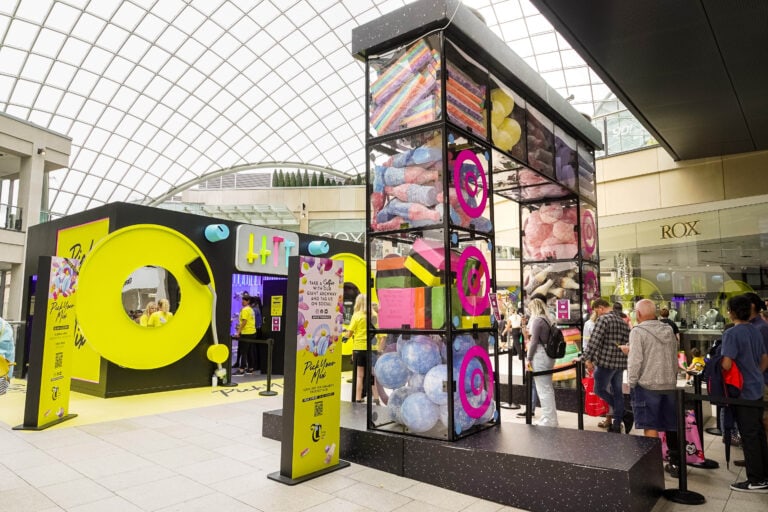 Shoppers were in for a sweet surprise at Trinity Leeds as we helped them launch 'Pick Your Mix' – a super-sized boom box with a silent disco plus free pick 'n' mix to take home.
Guests could listen to top summer tunes and fill up goody bags with sweet treats to take home, and snap a selfie under a 4-metre-high arch way filled with giant sweets.
We hosted a 'first look' for selected media and achieved 19 pieces of coverage with a reach of almost 3 million – a sweet treat indeed!
View this post on Instagram
A Sweet Escape For Our Cook's Club Influencer
Back in April we launched our 'Bagvertising' campaign to spread the news about the new Cook's Club Calvia Beach hotel in Mallorca. As part of the campaign, we invited people to apply for the 'Bagvertiser' role which would see them swap their existing suitcase for hotel-branded luggage in exchange for a free holiday, becoming a walking advertisement for the brand.
This month one of the lucky candidates went on their sunny escape to the beautiful Cook's Club location, and created a host of enviable travel content for us. Influencer Amelia has posted some great imagery while travelling with her Cook's Club-branded suitcase. Her posts have been picture perfect, achieving fantastic engagement, resulting in more awareness for our client.
View this post on Instagram
We also utilised our use of influencers within the campaign to gain even more press coverage. Arranging a quote with Amelia, we worked with the Daily Star on a personalised story about how she's able to be paid for travel and holidays by working with brands like Cook's Club.
View this post on Instagram
Celebrating three decades of Somerset shopping with Clarks Village
Having opened three decades ago in 1993 as the UK's first ever shopping outlet, Clarks Village in Somerset celebrated its 30th anniversary on the 14th of August this year.
To celebrate the milestone, the outlet hosted a spectacular three-day street party across its outdoor malls and iconic gardens which included street entertainment, live musicians, family games, craft activities and festival glitter face painting. The event even featured an anniversary artisan market with around 25 independent stalls joining the outlet, showcasing the best produce and locally made goods from Somerset and the South West.
Coordinating the press activity running up to the event, our team issued various press updates before and during the event, organised six interview case studies to regional and national media, and managed 10 broadcast media interviews, leading to stellar results including 46 pieces of coverage and a combined reach of 15.7 million.