Umpf diary – March / April 2021
A lot of exciting changes have been happening at Umpf these past couple of months. See below for the latest on our 5 award nominations, the new Umpf recruits, some tasty PR and social media campaigns, and our new London office!
Launching a London office and welcome 4 new recruits!
We've been lucky enough to welcome four fantastic new members to the Umpf team. Account Manager Danni Griffin and Junior Account Executive Alanna Hagan both join us from Arcadia and will be manning our brand new London office. Award-winning PR pro Laura Windeatt is looking after things from Cardiff, and Jake Baines is joining our digital and creative marketing team in Leeds. We'll also have another new starter joining us soon… watch this space!
Leeds agency @Umpf to open London office: https://t.co/AhmU9bzCNS #comms pic.twitter.com/u6f569YGdc

— PRWeek UK (@prweekuknews) March 26, 2021
In it to win it: 5 award nominations
We were chuffed to be nominated all 4 of our PR Moment Awards entries, including Best Use of Content, Stunt of the Year, Low Budget, and Integrated Campaigns. To top it off, we've also been nominated in the CIPR Excellence Awards for Best Use of Media Relations. Fingers crossed for the awards ceremonies, and good luck to all the nominees!
Chuffed to bits to have been shortlisted for all four of our #PRmomentAwards entries – best use of content, stunt of the year, low budget & integrated campaigns 🥳 pic.twitter.com/shjkewoNKL

— Umpf (@Umpf) April 26, 2021
April Fool's Fun
We made quite a splash (pun intended) with our April Fool's stunt for Keepmoat Homes – creating the 'world's first instant hot tea taps'. We know these stories are – ahem – not everyone's cup of tea, but as well as a bit of fun, we landed 40+ pieces of coverage including nationals, trade and regional.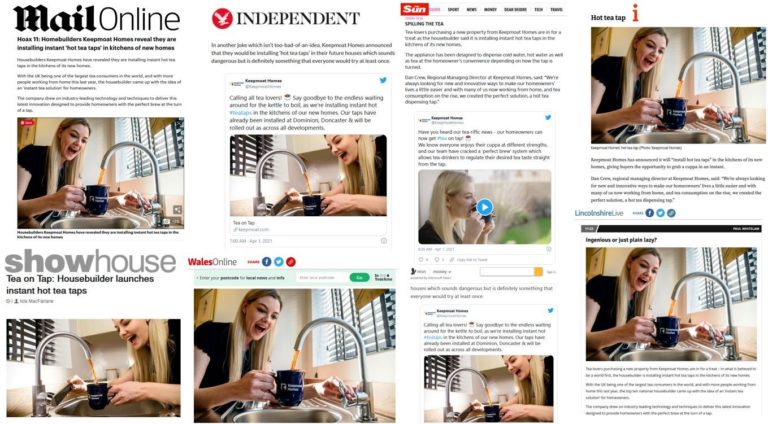 You might have also spotted some fun we had with Morphy Richards and Birds Eye. This generated 35 pieces of coverage, including 7 national pieces from the likes of the Daily Mail, The Guardian and The Sun.
Want to make waffles that are perfectly crisp on the outside and fluffy on the inside in minutes? Introducing our new Waffles Toaster! We've joined forces with @BirdsEyeUK to create the world's first, for potato waffles. See more: https://t.co/0Lpwq6hnZE pic.twitter.com/Lec0hYrqS5

— Morphy Richards (@LoveYourMorphy) April 1, 2021
A tasty new client
A fast-growing chocolate brownie brand with shops and cafes across the UK, as well as an online business, has appointed us to drive traffic to their website and footfall to their stores. Love Brownies, which already has London shops in Clapham, Islington and Southgate, has just opened its thirteenth brownie shop and café in Bristol and will add more to it's portfolio next month. Love Brownies' Head of Marketing, Tina Jessop said: "With new shop openings every month and an expansion of our digital offering in the pipeline we have a lot of stories to tell so we're delighted that the Umpf team will be driving on and offline PR. This next phase of growth is crucial to the Love Brownies brand so it's great to have Umpf on board to support."
Tasty new client alerthttps://t.co/oj7Zx3ghEI

— Umpf (@Umpf) April 30, 2021
Wake up and smell the coffee
Our fabulous fairtrade coffee client, Cafédirect employs three Q Graders, who are each intensively trained in cupping and scoring coffee to receive their Q Grading license. To share Cafédirect's expertise with the coffee-lovers of the internet, we hosted an AMA – Ask Me Anything – on Reddit.
Working with Q Grader David while he was working in the Cafédirect roastery, we invited questions on both coffee in general and Cafédirect's ethos. As the first Fairtrade coffee company in the UK and a certified B Corp, the brand has strong ethical and sustainability values.
Our AMA post received 900 upvotes, and we received 237 individual comments.
The top (the most upvoted) comment was a question on the Fairtrade logo, which gave us a great opportunity to talk about Cafédirect's work in this area.
Check out all the questions and answers here…
Have you ever wondered how we give coffee different notes and flavours? Or maybe you want to know how we test our coffee once roasted to make sure it's perfect! We are now live for a @reddit_AMA, come and join us and ask us anything. ☕https://t.co/CKqCLt4jM5

— cafedirect (@Cafedirect) April 20, 2021
If you like the sound of what we do (who doesn't like coffee and brownies!?), get in touch via contact@umpf.co.uk