Umpf Celebrates Ed Balls Day With PR Social Media Stunt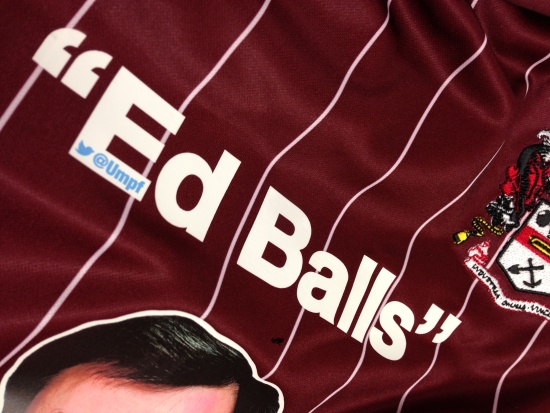 As a PR and social media agency, we love a good social media meme.
However, there have been few that tickled us quite so much as the Ed Balls "Ed Balls" meme.
The shadow Chancellor's Morley and Outwood constituency is just a few miles from our Leeds office, so it seemed appropiriate to piggyback off the recent second anniversary celebrations.
Last week we concocted a stunt to see if we could generate a bit of additional PR out of Ed Balls Day yesterday, which marked two years to the day that Ed accidentally tweeted his own name.
We contacted local football team Morley Town and asked them if they would play their league game this weekend in a new strip.  They agreed.
So, on Saturday Morley Town turned out against Inns of Court FC in the Wakefield and District FA League match in a shirt emblazoned with a picture of Ed Balls and his now famous catchphrase "Ed Balls".
Ed Balls

— Ed Balls (@edballsmp) April 28, 2011
Our story made Buzzfeed, MSN, The Mirror, The Guardian, Sky News online, and, of course, the Morley Observer.
The pictures, below, show Morley Town in action, not before some of the Umpf staff tried on the strip.