Twitter Character Limit, 3D Snapchat Lenses and Instagram Live
Our #FridaySocial is a weekly round-up of the key social media news stories from the previous seven days.  Let us know your thoughts in the comments or via Twitter – @Umpf
Twitter Tests 280 Character Limit
This week, Twitter announced that for a small group of its users, it has increased its character limit from 140 to 280.
It's unknown when the change will be rolled out to all users. Here's what Twitter CEO, Jack Dorsey had to say:
This is a small change, but a big move for us. 140 was an arbitrary choice based on the 160 character SMS limit. Proud of how thoughtful the team has been in solving a real problem people have when trying to tweet. And at the same time maintaining our brevity, speed, and essence! https://t.co/TuHj51MsTu

— jack (@jack) September 26, 2017
However, the tweet limit hasn't gone down particularly well, with users stating that Twitter should be brief and informative. Others have claimed it will spur further conflict and online abuse.
Imagine how many accidental wars Trump could start in 280 characters. https://t.co/6OT4BQAAgC

— Jamison Foser (@jamisonfoser) September 26, 2017
The 280-character limit is a terrible idea. The whole beauty of Twitter is that it forces you to express your ideas concisely (1/47)

— James Poniewozik (@poniewozik) September 26, 2017
US Announces Plan to Monitor Immigrants' Social Media Accounts
The Department of Homeland Security intends to monitor the social media accounts and internet search history of legal immigrants as part of a new tracking system set to roll out next month.
The policy will apply to permanent residents and naturalised citizens, planning to go into effect on 18th October (the same day as the latest travel ban from President Trump).
This isn't the first time administration has floated using social media to monitor immigrants and travellers. In February, Homeland Security announced it was considering asking visitors to hand over their social media passwords.
Instagram Adds Snapchat-Style Filters for Live Stories
Instagram users can now use face filters in live videos before or during a broadcast. For this week only, users have access to a sunglasses  filter which is exclusively available in live video.
Instagram has also added a 'discard' feature. This enables users to share a replay to stories or simply chose to 'discard' it when the broadcast comes to an end.
Also, Instagram has launched new autumnal stickers to mark the change in the season.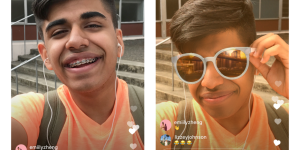 Instagram Adds New Comment Control Options to Help Improve User Safety
With Instagram having up to 800 million users and the ever changing landscape of stories and live, there's a greater need than ever for community safety options.
Comment controls have been implemented to allow users to choose who can comment on their posts.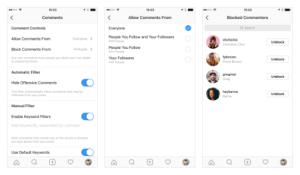 Back in June, Instagram added the capacity to block offensive comments, eliminating any comments which violate Instagram's community guidelines. At first, this option was only available in English, but now Instagram's expanding the filter to Arabic, French, German and Portuguese.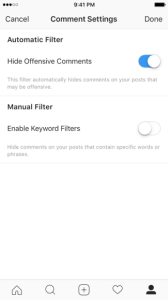 The last feature to be added is a new option to anonymously report people who appear to be in need of support during a live broadcast. When a user submits a concern, the broadcaster will be shown a message offering help, with options to talk to a helpline or to reach out to a friend.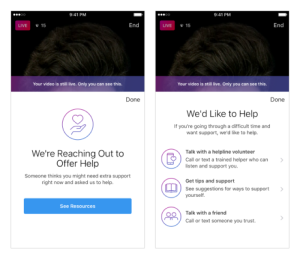 Snapchat Debuts Sponsored 3D World Lenses
Snapchat's chief strategy officer, Imran Khan, announced that brands can now sponsor a 3D World Lens with Warner Bros.
This means that advertisers can now use Snapchat's camera to bring characters and products to life – similar to the popular 'dancing hot dog' meme from earlier this year – with the new launch geared towards driving greater interaction between users and a brand's own creative.
One of the first partners to trial this feature is Warner Bros who have used the new 3D World Lens to create the 3D Blade Runner 'Spinner Car'.