The Biebs, Tesco Horse Meat, Maccy Dees and Film Clip Tweets
1. Another Congratulations is in order for Justin Bieber this week, as he takes the No.1 spot on Twitter with more than 33 million followers! His overall total of 33,472,433 (today) is more than Harry Styles and Barack Obama combined… now that is some going! The previous leader, Lady Gaga tweeted the 19 year old seemingly overjoyed: "So proud of @JustinBieber and all the Beliebers! I'm only happy to see your fans growing in size, you all deserve it! Monsters support you!" (Yeah, right – pull the other one!)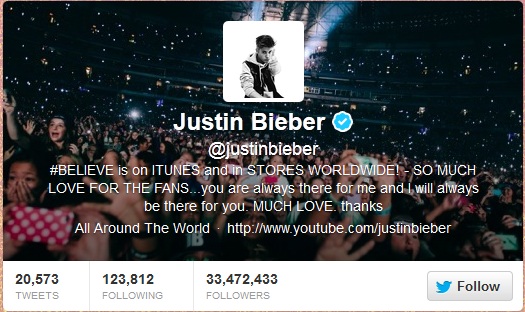 2. So… Twitter was set alight with the sound of horse jokes earlier this week following from the Tesco horse meat scandal – they would've got away with it if it wasn't for the DN Neigh test (get it?)! If you hadn't seen already, here is a list of the best jokes floating around on Twitter. For some reason the Tesco social media team decided to add their own to the mix:
Cue the tumbleweed! It's safe to say that lots of people were not impressed and Tesco had to release a further apology.
3. Earlier this week McDonalds announced the launch of QR codes on their global packaging design in an attempt to inform customers of their nutritional information in a modern and relevant way. Instead of listing it on the packaging consumers will need to scan in the QR code to find out nutritional information and maybe even its origin.
It comes after Coca Cola made headlines with its new advert, highlighting the brand's commitment to introducing lower calorie options and raising awareness about public health issues.
4. This week also saw the launch of Vine, Twitter's standalone video-sharing app for iPhone which enables users to share short film clips with followers. The six-second clips automatically play on a loop once embedded within tweets. Vine co-founder, Dom Hofmann said: "Posts on Vine are about abbreviation — the shortened form of something larger. They're little windows into the people, settings, ideas and objects that make up your life. They're quirky, and we think that's part of what makes them so special."