PR and social media professionals love a stunt. The naughty, almost child-like excitement gained in the preparation and execution is special. From those coffee (booze) fuelled brainstorms, some of the craziest, yet most effective media awareness and social buzz activity can be formed. What makes the stunt so special is it could all go terribly wrong. What if no-one finds it funny or newsworthy? What happens if the photographer doesn't turn up? Why isn't anyone using my hashtag! With all your eggs in one basket, the fear of failure and the high stakes is what makes it the best part of the job. Or maybe that's just me…….
Whilst there are many of these blogs littered across the internet on the best PR and social stunts, I thought I'd give a run down on the most humorous and daring stunts. The stunts that have made the man on the street grimace, shake their head in disbelief or LOL until the cows come home.
Note: I've not ranked any of these based on media coverage, fan increase on social channels or engagement. Just awesomeness…….
BA can't get it up – Virgin Airways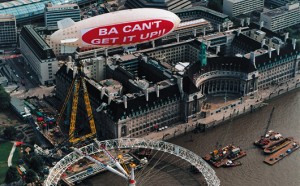 Nothing beats this for me. This is what is achievable when you have a dream client with the deepest of deep pockets and an impulsive leader who understands the art of a PR stunt. In 2000, British Airways had the world's media waiting as they erected the London Eye. The day didn't start well with technical problems meaning the raising of the Eye was delayed, providing Richard Branson with the perfect opportunity to make BA look silly. Taking advantage of Virgin's vast resources, (Virgin owns an airship company on the outskirts of London) a blimp was scrambled to fly over the London Eye, highlighting BA's inability to "get it up". Whilst BA was still struggling to erect the Eye, the world's media photographed  the airship and its message. Brilliant.
Guns 'n' Roses Chinese Democracy album release – Dr Pepper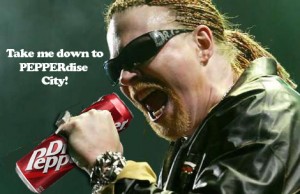 As this stunt ended with legal threats, letters between lawyers and slanging matches in the media, Dr Pepper probably regret their actions. Yet the bravery and comedy value makes it one of my favourite stunts. After 17 years of broken promises, remixes and rewrites, the "eagerly" anticipated new Guns 'n' Roses album, Chinese Democracy, was still in production hell. Seizing on the almost laughable excuses issued by frontman Axel Rose as to its years of delay, Dr Pepper released a statement offering every single American, yes, EVERY SINGLE American, a free can of Dr Pepper if the album was released within the calendar year of 2008. Promptly the album finally appeared in 2008 and initially Guns 'n' Roses supported the campaign. Things turned sour when Axel Rose attempted to sue Dr Pepper over unfulfilled promises. Talk about a fun sponge.
Taco Bell buys the Liberty Bell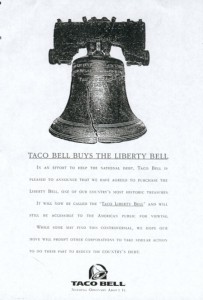 This is a great stunt, not only for the HUGE coverage it received (over 650 publications and 400 media outlets……wow), but because it caused such outrage across America.  On 1st April, 2006, Taco Bell placed a full page advert in the New York Times claiming to have purchased the Liberty Bell due to the country's economic troubles and to help with the national debt. Oh, and they would rename it the "Taco Liberty Bell". For those not in the know, the Liberty Bell is one of the United States most sacred and iconic symbols of independence. This is basically an expensive fishing trip that made me chuckle no end. Thousands called and wrote to the New York Times in disgust, clearly not taking note of the date.
Scouser with a genie lamp – Paddy Power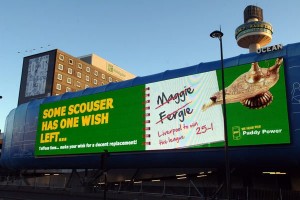 Paddy Power rules the roost when it comes to controversial PR stunts and this one was no different. The day after Sir Alex Ferguson's shock announcement of retirement as manager of Liverpool FC's biggest rivals, Manchester United, and coming within a few months after former Prime Minister Margaret Thatcher's death – another unpopular figure in Liverpool, Paddy Power had the above advert at Liverpool Lime Street train station. The full motion advert suggests that a Liverpool FC fan may have a magic lamp and these events are down to his/hers wishes. It also insinuates their final wish will ask for Liverpool FC to win the Premier League title. The campaign caused uproar and had to be removed within hours, gaining coverage across the UK and general laughter amongst football and betting fans.
The Truth – Body Form
Richard Neill really didn't know what he was getting himself into when he left a comment on Bodyform's Facebook page basically mocking their advert for suggesting his girlfriend's periods would be a "joyous adventure". He also asserted that it mislead men about the behaviour of women during a period. See his post below: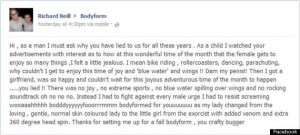 Bodyform's reaction? Priceless. The below video by fictional Bodyform CEO Caroline Williams answers some of Richards points. I'll say no more as it has to be watched to be appreciated, but it's top gags. You can view it here
I'm always keen to hear of any amazing stunts, so give me a follow on Twitter and say hello you filthy animals.