Social parties: our five favourite stories of politics and social media
 As the party conferences draw to a close, here are our top five (totally non-partisan) political moments from the web: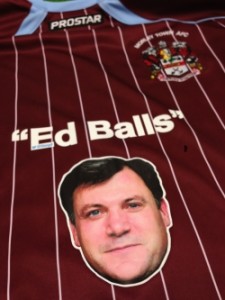 1.       Ed Balls
In April 2011 Ed Balls mistakenly tweeted his own name whilst presumably searching for tweets about himself. Rather than delete it, Ed left his faux pas for all to see, this was lapped up by the Twitterati of the time and a cult 'Ed Balls' fandom was born. The tweet in question has been retweeted over 21,000 times to date.  The anniversary of the tweet is celebrated with an annual Ed Balls day, Ed himself gets involved and he has retweeted the original tweet much to the glee of his followers. We celebrated Ed Balls day  2013 in style with the help of Morley Town FC, the football club in Ed's constituency.
2.       Nick Clegg's auto-tuned apology
An oldie but a goodie. A part of me likes to think that this was a highly intelligent piece of covert activity from the Lib Dem press office – in actual fact it was an excellent stunt from The Poke. Whoever was behind it, I am pretty sure the message that Nick Clegg was 'Sorry, sorry, so so sorry' for raising tuition fees reached a far larger audience of 16-24 year olds than the original non-auto-tuned apology. The catchy tune even stormed the iTunes charts, reaching number 39 just 12 hours after it was released in September 2012 – beating off competition from the likes of Kanye West and Pink.
3.       Barack Obama's victory tweet
After the hard fought 2012 presidential election, Obama's account tweeted a simple three word message to mark his victory – accompanying a candid and personal image of him embracing first lady Michelle.  This tweet has been retweeted almost 800,000 times and favourited almost 300,000 times.
4.       #downgraded
The hashtag became a pawn in the political game, the day Chancellor George Osbourne decided to make his Twitter debut. Sadly for him it coincided with the opposition releasing research which claimed some families would be £600 worse off by 2015 than they were in 2010. In Parliament, Ed Miliband was reported to have said:
"Today, the chancellor joined Twitter. He could have got it all into 140 characters: growth down, borrowing up, families hit, and millionaires laughing all the way to the bank. Hashtag downgraded chancellor" Ouch.
5.       LOLgate
During the Leveson Inquiry, it transpired that David Cameron had, for a while, signed off text messages LOL, thinking it was an acronym for lots of love rather than laugh out loud. Luckily, this seemed to have been put straight before he joined Twitter in 2012. Wonder if he's familiar with the ROFLcopter?