Social Olympics or Social Fail?

With the London Olympics already underway with a bit of pre-opening ceremony football, the social media universe is gearing up for what is being billed as the first ever Social Olympics or Socialympics as some people are calling it.
Whilst the strict rules which protect the Olympic brand have been in place for years, the relative uncontrollability of the vast social media world has led to even more dos and do nots when it comes to the online space.
For people working or performing a catalogue of guidelines apply.
The Olympic workforce, also known as 'Games Makers' have a number of social media restrictions which pretty much prevents them from doing anything on social media apart from retweeting London 2012 official posts.
For athletes, whilst they are being encouraged to embrace social media, the guidelines state that updates should be in a first person or diary-like format and they are not permitted to post about the games as they happen, or comment on the activities of other participants. Video from the Olympic Village is prohibited and images of other athletes can only be posted with their prior permission. Posts or images including the Olympic rings are not allowed.
This all begs the question, can you really police the digital space and isn't restricting output going against the very essence of what we have all come to expect from social media?
Whilst there are security issues that need to be adhered to (such as revealing the locations of athletes and VIPs), surely there is a huge social media potential for behind-the-scenes stories from both the athletes and Games Makers – the people on the ground living through a once-in-a-lifetime experience.
One of the many beauties of Twitter is the unprecedented real-time insight and access that it gives people to a behind-the-scenes world. It has been said by many but I certainly agree – to restrict or control what many people have come to expect from social media is surely moving backwards rather than forwards.
When it comes to brands who aren't official sponsors, the advice for social media is pretty clear cut – you can't associate yourself with the Olympics, you can't frame marketing campaigns around the Olympics and social updates should stick to fact. Take a journalistic approach and you should be fine.
Twitter has also hopped on the LOCOG bandwagon and agreed to prevent brands from using the social network for Olympic ambush marketing by blocking non-sponsors from purchasing promoted Twitter ads with Olympic hashtags.
For many, rules were made to be broken, or stretched as Nike would put it. Nike is a brand that has been successfully riding the coattails of the Olympics for months. Back in March research by digital agency Jam, declared Nike the brand most associated with the 2012 Games, far out-performing official sponsor Adidas in terms of recognition.
Nike's #makeitcount campaign which launched in January 2012 and featured some of the world's most recognisable Olympic athletes making personal pledges for 2012, captured the spirit of the Olympics well before the hype.
Taking it a step further, tonight the brand will launch a TV ad on the same night as the opening ceremony strap lined 'Find Your Greatness' with a heavy emphasis on London.
The ad's Youtube description reads: "Greatness isn't reserved for the chosen few in one special city, it can also be found in London, Ohio, and London, Norway, and East London, South Africa, and Little London, Jamaica, and Small London, Nigeria and the London Hotel and London Road and anywhere else someone is trying to find it." Teamed with an aggressive outdoor campaign in London, it is viewed by many as a prime example of ambush marketing.
Earlier this month the brand also unveiled plans to run real-time promoted tweets during the USA men's basketball games at London 2012 including spontaneous tweets about the matches in play to target people tweeting during the games.
Away from social media a number of other brands are fighting the Olympic police with cheeky campaigns and stunts that have captured the media's attention and are certainly worth a mention.
Oddbins has seen a 22% increase in web traffic since the launch of an anti-Olympic campaign this week. The brand is offering a 30% discount to people who come in to its shops with products linked to non-Olympic brands – e.g. Nike, Pepsi, KFC, etc
Never one to shy away from controversy, also this week Paddy Power unveiled a billboard proclaiming itself to be "Official sponsor of the largest athletics event in London this year" … actually an egg and spoon race in London, France.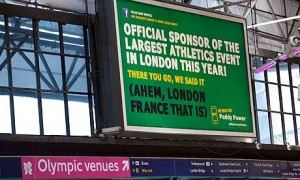 Riled Olympic chiefs have backed down from attempts to remove the billboard but will be 'closely monitoring the situation.'
With the opening ceremony just hours away, all that is left to do is follow the appropriate hashtags, athletes and official streams and watch it all unfold. No doubt there will be just as much post-games analysis as the mountain of reports that came before it. Perhaps only then can we declare London 2012 as the first true Social Olympics.