Social Media Usage at World Travel Market 2014
Last wee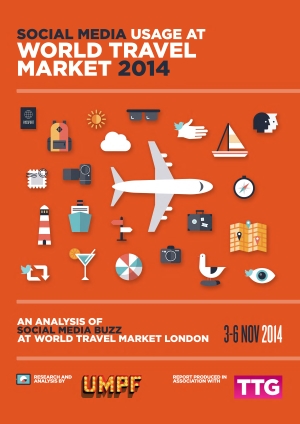 k was the 35th annual World Travel Market, the leading global event for the travel industry.
To mark the occasion, we looked at how the four-day event at ExCeL London played out on social media.
With more than 50,000 senior travel industry professionals, government ministers and international press in attendance, we analysed social media activity around the official #WTM14 hashtag on Twitter and Instagram from the 3-6 November.
The Umpf team created a daily social media report which looked at the previous day's most influential contributors, hot topics, most shared tweets and images, as well as day-on-day trends (see more: Day 1, Day 2, Day 3, Day 4).
Now that WTM has ended, we have produced an in-depth, 12-page report which looks at social media usage at the event in more detail.
The data tracking, research and analysis was managed by Ellie Hallsworth and Matthew Balmforth. It was produced by Umpf in association with TTG, the UK's leading media business for travel agents and the travel and tourism industry.
To request a FREE copy of the full 12-page report, email WTM@umpf.co.uk
7 Social Media Takeaways from World Travel Market
1. The total number of tweets containing the hashtag #WTM14 during the four-day event was 10,766 – this was from a total audience of 4,138 users.  A further 926 Instagram uploads also used the official hashtag.

2. The total reach of all #WTM14-tagged tweets was more than 16 million, while the number of impressions – the total number of times a tweet containing #WTM14 was delivered to Twitter users' timelines – topped 58 million.
3. In terms of content engagement, one very clear tactic emerged: imagery. Nine of the top ten most retweeted tweets at World Travel Market contained an image. Congrats to @qatarairways, @ECB_cricket and @dubaitourism whose tweets were ranked 1st, 2nd  & 3rd overall.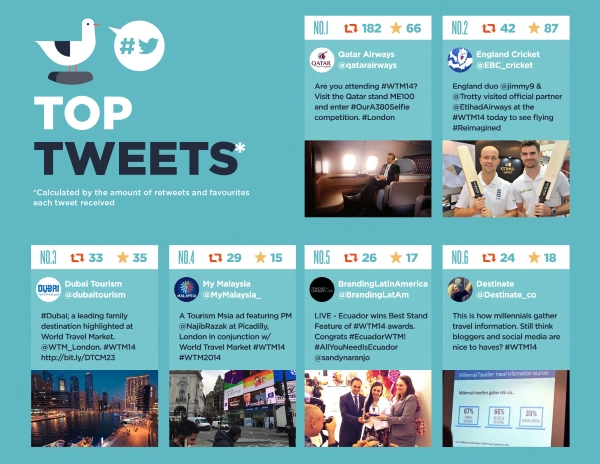 4. The use of hashtags also proved impactful; looking at the ten most popular tweets, there was an average of 2.2 hashtags used per tweet.
5. By volume of total contributions, @StayFiveStar, @BrandingLatAm and @Buhalis took the top three spots.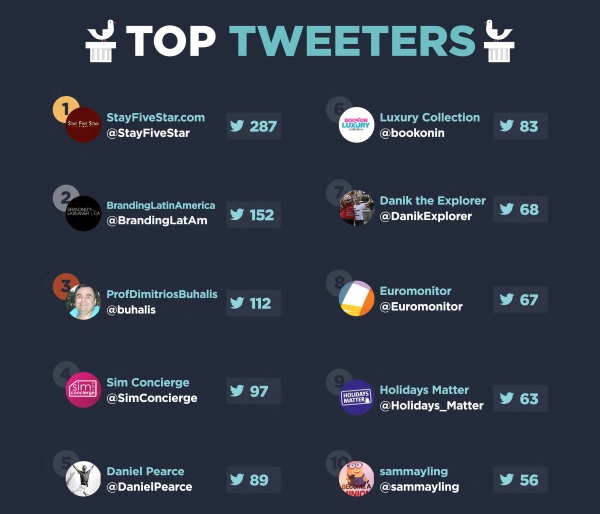 6. The most popular Instagram uploads using the hashtag #WTM14 were, unsurprisingly, dominated by Instagram users with large communities.  Czech model @pnemcova  (65k followers) and popular travel blogger @miss.everywhere (14k followers), took top and second spots respectively.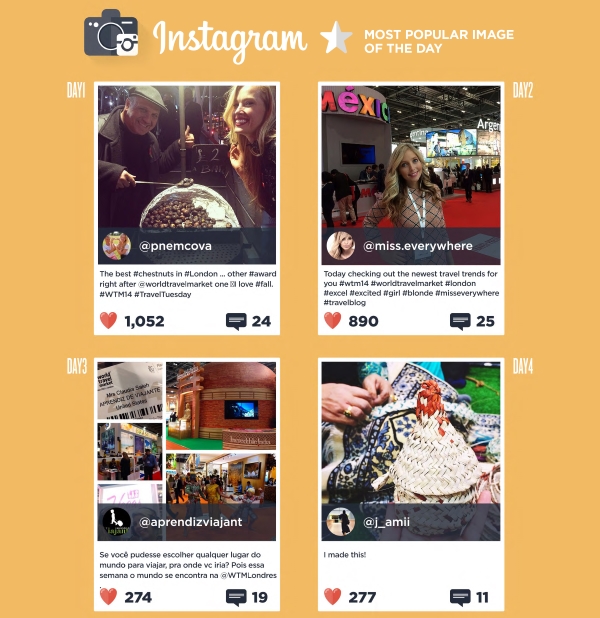 7. 40% of the top trending topics on social media at World Travel Market had a celebrity element.  Whilst key industry topics such as the WTM Ministers' Summit, the WTM Captains of Industry session and a responsible tourism discussion ranked in the top ten, so did ex-Arsenal and Middlesbrough player Ray Parlour's attendance, Etihad Airways' having England cricketers on its stand, as well as the aforementioned model Petra Němcová.