Social Media Round-up of the Week – 12 August
Welcome back to our weekly instalment of what's hot in the world of social media. In case you missed what happened over the past week, here's a run-down of our top five: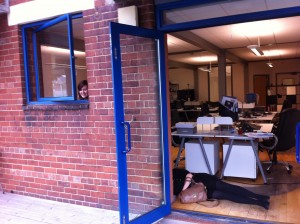 1. The phenomenon of Horsemaning looks likely to steal planking's crown as the next internet picture-led craze. You'll see from our own Umpf 'Horsemane' (right) that the concept is simple. Horsemaning takes its name from the Headless Horseman and gives the impression that the photo's subject has been decapitated. One person hides their head as best they can, and another hides their body, creating a kind of optical illusion if it's done right. You heard it here first, folks. It's time to lose your head.
2. Social media has come under fire for its role in helping coordinate the efforts of looters in the UK over the past week.  Blackberry's Messenger service, in particular, was singled out for its 'closed circuit' communications, enabling groups of looters to communicate off  the record and organise where they would next attack. Whilst platforms like Twitter and Facebook came under fire, the better side of social media was shown in groups like Riotcleanup which managed to amass nearly 88,000 followers on Twitter and coordinate a mass clean up of riot-hit areas.
3. Twitter has launched a new camera button which allows its users to post a photo within the body of a tweet, without needing to use a third party photo-sharing site. The site began rolling out the new tool on Wednesday night, which allows users to post a photo within the body of a tweet by clicking on the small camera icon below the tweet box.  The icon then takes users through to their files so they can browse them and upload the photo of their choice. All photos are being hosted by a third-party company called Photobucket.
4. Computer hacking group Anonymous has described a threat to "kill" Facebook over privacy concerns and the alleged use of user information by authoritarian regimes as a hoax. A warning purported to be from the loosely-affiliated group of international hacktivists was issued through YouTube last month. It said it would take down the social networking site in November. "Prepare for a day that will go down in history. November 5th, 2011," the video warned. "Your medium of communication you all so dearly adore will be destroyed." Only time will tell if this is a double bluff!
5. Rapidly growing Social Network Google+ is "well-positioned" to become second only to Facebook in the social networking world in the U.S. within the next 12 months, according to a survey by YouGov. With the momentum the new site is showing, it should quickly pass by struggling MySpace and microblogging site Twitter and LinkedIn. Google+ was unveiled at the end of June and quickly amassed millions of users, despite the fact that the social network is still in field trials and membership is invitation-only.