Social Media Digest: The Growth of Vine, D-Day as it Happened and Pinterest vs Google search
1. Vine has now opened its gates to Android users and in they have flooded, bringing the total number of users to over 13 million. Now that they've extended the party to Android, it will be interesting to see how rapid the growth is from here. Currently, there is a massive 102 million vine.co links posted
to Twitter each day and according to this Topsy chart, Vines shared on Twitter are about to pass Instagram shares. Although, we have heard a sneaky rumour that Facebook is testing a Vine-like video sharing feature for Instagram, which will allow users to upload similar video loops of up to 5 to 10 seconds each.
This new version includes a new feature that's unique to Android: zoom. Upcoming features for both iOS and Android include a front-facing camera, search, mentions and hashtags.
2. Driven by advertiser feedback, Facebook announced on Thursday that it plans to streamline its ad units to roughly half its current offering of 27. Sponsored stories will be brought into a more generalised unit that will include social information such as likes and comments at the top of the ad. Especially important due to the ongoing growth of mobile, advertisers will now be able to target who they want to target in a way that's easier and, as Facebook claims, more aligned to their objectives and more measurable.
3. Channel 4 is embracing social media and 'second screen TV' more than most. This week, its venture was its biggest experiment yet, in retelling the events of D-Day as it happened over TV and social media. Marking 69 years since the Normandy landings, the two-programme special told us the backstory of 7 people who were actually there, whilst viewers were encouraged to follow their progress in real time on Twitter, using the hashtag #DDay7.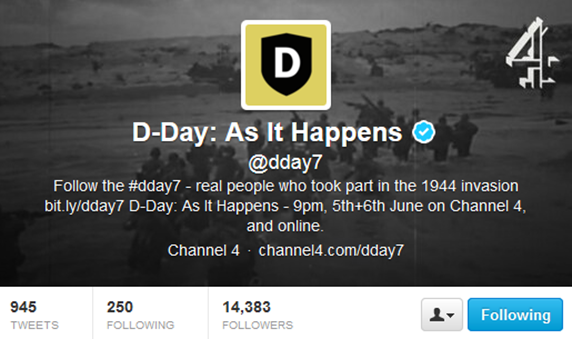 Audience engagement was high; with the @dday7 account reaching 14K+ followers and the DDay7's individual accounts receiving a combined following of 25,801.
Channel 4 sure knows how to get the people talking, and for all those stat-geeks this is my gift to you… the Twitter 'buzz' stats around the most popular Channel 4 programmes in May are as follows:
The most tweeted about episode of Made in Chelsea in May received 115,000 tweets, the most tweeted about episode of Skint in May received 103,000 tweets and the most tweeted about film in May was Titanic, which received 89,000 tweets. Not bad.
4. TweetDeck has been given its most significant interface update in years. Visually, it is lighter and simpler, but the most significant change is the menu. It now appears in a narrow expandable left-hand menu bar, which extends depending on the number of accounts it manages and columns added. For someone who has upwards of 10 columns at any one time, the improvement brings much welcome organisation options that make these much easier to sort. You can now interact with each column on the sidebar, regardless of how many you have or your screen size. Another handy option is the ability to click and drag columns to easily and quickly change their position.
5. Pinterest is essentially a 'discovery' tool and it has been built around allowing users to search and catalogue inspiration. With more than 48 million unique visitors globally, and a 15% share of all active online adults, Pinterest has been working hard of late to link between actions on the site and sales conversions, thus helping to strengthen the credibility of analytics for big brands on Pinterest. Following on from its acquisition of Punchfork and the introduction of Rich Pins, it has announced this week that their search feature has been upgraded to allow users to search within their own pins.
Did you also spot that Buzzfeed article on how Pinterest 'accidentally' built a better search engine than Google? It offers up evidence that nine out of ten times, Pinterest search actually beats Google image search in delivering more useful results. Some interesting contrasts…