Friday Social – TalkSPORT rows with Twitter, Facebook tweaks News Feed and Twitter considers direct purchasing
Our #FridaySocial is a weekly round-up of the key social media news stories from the previous seven days. Don't forget to let us know your thoughts on this week's blog in the comments or via Twitter – @Umpf / @Tomscott1
1.TalkSPORT Twitter Row
Sports broadcaster talkSPORT has urged Twitter to take action over "racist [and] abusive tweets" relating to Stan Collymore. The former Liverpool and Aston Villa football player received a flurry of abuse after he suggested that Luis Suarez of Liverpool had dived in a recent game.
The row escalated with TalkSPORT officially pulling all of its support for Twitter, the Chief Executive of TalkSPORT said: "We have more than three million Twitter followers across our accounts, but we will not promote these until we are satisfied that Twitter is doing its utmost to prevent abuse of this nature."
With the debate continuing to grow, Stan Collymore de-activated his Twitter account after reacting furiously to tabloid claims that he had been hypocritical, referring to previous accusations of domestic abuse. He has since reactivated and the abuse has recommenced.
It is difficult to say what systems sites such as Twitter can place in to action to stop abuse like this, how do you police and regulate such vast sites when freedom of speech are at their very core? Answers on a postcard to 46, The Calls, Leeds please.
2.Facebook Tweaks News Feed Algorithm Again
Another Social Media Digest, another Facebook update, this time it is the News Feed algorithm that has been tinkered with.  The algorithm dictates what content is pushed to your news feed, both from your friends and from the pages you follow. In recent months those of us who operate brand pages will have noticed a constant decrease in total reach for posts, there seemed to be a huge discrepancy between the success of content depending on if it was text, image, video or link, with the latter seeming to be performing most successfully.
The latest announcement from Facebook is vague at best, content which is text only is likely to perform badly whereas links are being favoured heavily, especially links which include the default preview screenshot, rather than just a hyperlink on its own. There will no doubt be further tweaks as Facebook constantly refines its product.
3.Twitter takes step towards retail
Online payment start-up, Stripe, is reportedly close to a deal which would bring direct payments to Twitters users. Currently retailers are limited in offering any sort of purchasing on Twitter, there is an existing partnership for American Express card holders who are able to link a card with their account but this is about as far as it goes currently.
The option to offer direct sales could help boost Twitters advertising hopes, with retailers far more likely to experiment if there is the potential to directly increase income.
4.Scam draw in thousands of Facebook users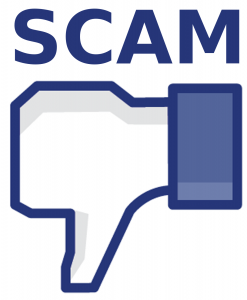 Sex sells, and it almost certainly draws people in to clicking on links they shouldn't, the latest Facebook scam to do the rounds features a young lady in a bikini with the following words "Look what this girl is wearing at the beach in front of thousands of people!"
It worked, thousands of people clicked the link which directed users to a blank page, the post is then shared automatically without permission from their profile. The lesson, if it looks dodgy, don't click it.
5.The 9 new commandments of social media
The Church of England has passed out what they see as the top rules to live by when it comes to social media; the commandments are below, is there anything missing or anything you would remove? Let us know in the comments section of the blog.
The nine Commandments:
1. Don't rush in
2. Remember updates are transient yet permanent
3. You're an ambassador for the church
4. Don't hide behind anonymity
5. Think about the blurring of public/private life boundaries
6. Safeguarding: communicating directly online is like meeting someone in private
7. Stay within the legal framework
8. Respect confidentiality
9. Be mindful of your own security