Social Media Digest: Sky Share, #ChosenByMe and Hollywood and Vines
1. Facebook and Sky have teamed up to launch an app allowing users to record programmes using the social network. In launching the Sky Share app, Sky is the first brand to use Facebook in this way. Sky Share will encourage users to share info about their favourite shows and viewing habits, and will suggest programmes based on what their friends are watching. The free app is aiming to capitalise on the trend of live-tweeting/Facebooking programmes viewers are watching – according to Facebook product manager Greg Lindley, one recent Game of Thrones episode gained a whopping 1.5 million mentions on Facebook alone.
2. Asda will be adding real social media comments to its Chosen By You range in order to promote the products' credibility and

quality. The supermarket has invited customers to post on Facebook and Twitter using the #ChosenByMe hashtag, with 2,000 mentions already being received that will be used on in-store signage and on-pack stickers.  As Asda's head of social media, Dom Burch, puts it: "Pam from Peterborough talking about how our key lime pie is #todiefor, says it far more credibly than if we said that ourselves."
3. Airbnb has launched a competition to help create a first-of-its-kind short film created entirely from Vine videos. In late August, the Hollywood and Vines (clever, huh?) director will tweet out a request for video footage. Participants need to reply with the designated hashtags – #AirbnbHV and a shot number and share their videos on Vine and Twitter. The winning Vines will be selected by a panel of judges and will be combined to create the film – winning videographers will receive a $100 Airbnb voucher for their trouble. Creative!
4. Earlier this week, One Direction premiered their new film This is Us – amassing over 3.6 million tweets about the Leicester Square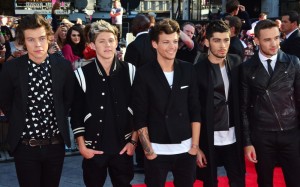 event. The official Twitter account for the film now has over two million followers, proving that social media is a key tool in maintaining the One Direction-mania.
According to The Drum, the boyband has over 80 million followers between them  – that's almost double the population of New Zealand. Imagine an island of Directioners. *Shudder*
5. Facebook is now giving users more control over what they share on the social site, according to an announcement on Thursday. A new two-step permission process has been rolled out across all of the site's users following an initial announcement about the plans to do so back in April – now, when signing in to third-party apps, Facebook will ask users exactly what they want to share with the site. The first stage asks for 'read permissions' (which allows your info to be used by the app) and the second for 'write permissions' (which allows the app to post to Facebook on your behalf). Before the update, users could not agree to one half of these permissions without the other – feedback from users, some of whom will avoid logging in to apps if the app will post to their Facebook timeline, has led to this two-step process being created.