Social Media Digest: #RoyalBaby Boom, Twitter Trouble and Teens Heart Facebook
1. Not everyone was as indifferent to the Royal Baby's arrival this week as Private Eye was. According to Facebook, more than 19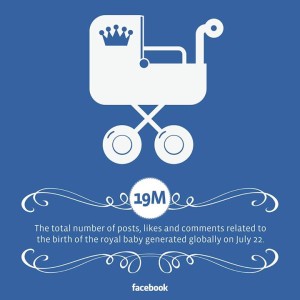 million posts, likes and comments were generated around the birth of Prince George on 22nd July.
During July, there were also 956,194 mentions of the #royalbaby – exploding on the 22nd with a whopping 746,785 tweets.
The birth announcement was also posted on The British Monarchy's Facebook and Instagram pages – a first for a Royal Birth.
2. A similar first, the official White House photographer Pete Souza has launched an Instagram account to showcase his work.  In his first post (below), Souza promises to bring viewers behind-the-scenes of the Presidency. The new Instagram account joins the already-active White House Flickr and brings another social aspect the US Head of State.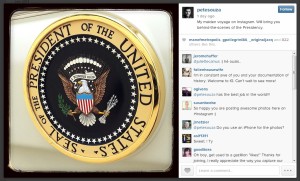 3. Earlier this week, it appeared that American food chain Chipotle was hacked on Twitter – the chain tweeted a string of random messages from its @ChipotleTweets account: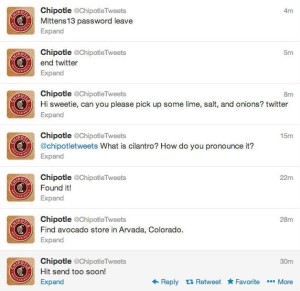 BuzzFeed almost immediately posted an article saying that either Chipotle either had no idea how to use Twitter, or knew exactly how to use Twitter – which was it? Now, Chipotle has told Mashable that it did indeed fake the whole thing as part of its 20th anniversary promotion. Chipotle rep Chris Arnold told Mashable: "We thought that people would pay attention, that it would cut through people's attention and make them talk, and it did that. It was definitely thought out: We didn't want it to be harmful or hateful or controversial."
Mashable reports that Chipotle gained 4,000 followers following the hack and received 12,000 retweets on the suspect tweets.
4. Twitter is in trouble with a number of users after using their names and fake tweets to sell an advertising product. In a blog post promoting its 'Amplify' product, which allows brands to promote tweets relating to TV activity on the social platform, Twitter featured a few mocked-up tweets about a TV ad to show how Amplify could be used.
According to the users, they were never contacted by Twitter to ask if their handles could be used as part of the blog post. Twitter has now publically apologised to the users that the fake tweets were attributed to, although one user is reportedly consulting an attorney regarding the matter although as The Drum points out, it's perfectly legal for Twitter to use users' information in this way. Twitter hasn't released a statement about why it chose these particular users in the blog post.
5. Following its announcement that Q2 earnings exceeded expectations with $1.81 billion in revenue, Facebook's Mark Zuckerberg has reported that teens are still steadily interested in the platform. Despite admitting that it's hard to track teens on the site because some lie about age, users in general spent 20 billion minutes per day on Facebook during June – equating to just more than 17 minutes per day per user. More than 70% of monthly users in the USA and Canada return to the site every day.