Social Media Digest: Pinterest's profiles, Cadbury's chocolate Google+ and Tuborg's creative new cans
Welcome to this week's social media digest – don't forget to let us know what you think about this week's stories!
1. Pinterest announced earlier this week that it would be releasing redesigned profile pages, with CEO and co-founder Ben Silbermann announcing at SXSW that he "wanted to make it more beautiful … to make your profile different in kind than the profile you have on Facebook". Well, they're here! We're usually very open to social networking redesigns – Twitter and Facebook's were both welcomed without complaint – but I'm not a fan of Pinterest's redesign. This might just be because the new redesign has made my board hack redundant, but it doesn't feel as streamlined as previous profile pages and is now a very different design to the Pinterest homepage. Will they be changing this to fit with the new profiles?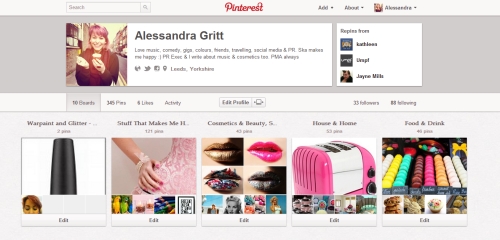 2. Greater Manchester Police, the force which raised awareness of the calls that 999 centres deal with by tweeting details of every single call logged over a 24-hour period, has been forced to apologise to the mother of a missing girl this week. The GMP reported via Twitter that the 12-year-old was found safe and well – before telling the mother. The force tweeted '[Missing girl] HAS BEEN FOUND BY POLICE IN THE TOWN CENTRE!!! THANK YOU PLEASE RT', which was promptly picked up by the girl's mother and other Twitter users who pointed out that the telephone might've been a more appropriate way of informing the mother. Greater Manchester Police have apologised and the tweet have been deleted – perhaps a reminder that the social way isn't the only way.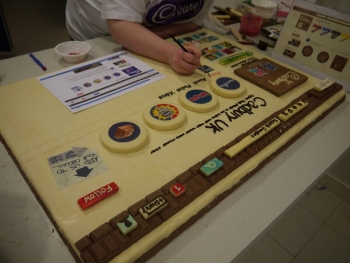 3. Cadbury has made its Google+ page out of chocolate. Following the launch of its new Daily Milk Bubbly bar on the social networking site, the chocolatier has celebrated 500,000 G+ 'circlers' by creating the edible webpage. Cadbury shared a series of photographs showing its fans how it created the page and hosted a Google+ Hangout so that users could watch the finishing touches being applied. Cadbury seems to be a fan of G+ and posts to its profile a few times a day – clever use of a network that hasn't (yet?) been adopted by more brands.
4. Tuborg beer is asking its Facebook fans to help design its new can which will be sold throughout the summer. Tuborg, which partners itself with a number of music festivals, has launched an app inviting users to design a can or view the gallery of previously-made creations, and has enlisted graffiti artist INKIE to judge the shortlisted designs. The winner will receive tickets to Tuborg-promoted festivals this summer.
5. The BBC has confirmed that it's working on a TV-downloading service, similar to iTunes. BBC Director General Mark Thompson told the Royal Television Society that the service, code-named 'Project Barcelona', will provide downloads for recently-broadcast shows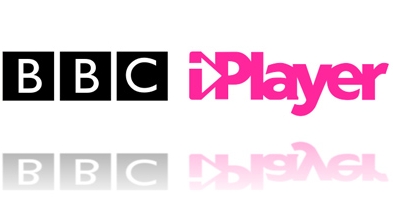 as well as clips from the BBC's archive. Project Barcelona won't replace BBC's free-to-use iPlayer, which viewers can use to watch shows up to seven days after they're broadcast, but will instead run alongside as a permanent way to download a show for a small fee. Following raised eyebrows and claims that the new service is just an additional licence fee, Mark Thompson said that "for decades the British public have understood the distinction between watching Dad's Army on BBC One and then going out to buy a permanent copy of it". It's not yet clear when the service will launch or what the costs involved will be.