Social Media Digest: Natwest Vines, Google Glass High Fashion and Twitter on Holiday
1. Don't do drugs kids, and definitely don't ask for drugs on Twitter. A Canadian man lost his job this week and may have encountered a bit of trouble with the local police force after tweeting the following while on-shift at the local Mr Lube and receiving an unexpected reply –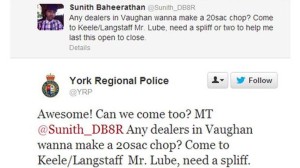 The offending tweeter then posted a string of tweets claiming the original was a joke, however by then it was too late – the manager at Mr Lube told local news that the tweeter had been fired and Mr Lube's official Twitter account also confirmed that the 'matter has now been handled'. A good reminder not to overshare on the internet…
2. Music sharing site SoundCloud announced this week that it has combined with social network Google+ to allow its 500 million users to embed their sounds directly in to their Google+ pages. It's no secret that Google is attempting to build up Google+ to compete with Facebook – partnerships such as this can only be a good thing as the network attempts to lure more users and encourage current users to become more active on the site. The announcement was made on Monday with several artists, such as Pearl Jam, embedding music on to their page.
3. With thousands of students across the country receiving their A Level results yesterday; so comes another cohort of university freshers looking to choose their student banking provider.
Natwest has cleverly used Vine to engage with this latest group of soon-to-be freshers in a series of short videos offering tips on how to be financially savvy at university.
The Vines – ranging from online banking tips to simple ways to save money – form part of a wider social media campaign by Natwest called 'Be Uniproof'.
4. Google Glass is always making the headlines, but rarely is it associated with high fashion. However, in this September's Vogue – the second largest issue ever published – Glass receives a twelve page high fashion editorial spread.
The futuristic photographs show models posing in a barren landscape, wearing matching AR glasses.
Google Glass has also received a high fashion endorsement from Marie Claire's Nina Garcia when it was revealed that she will be streaming shows at New York Fashion week via Google Glass – a fashion first.
5. A survey by Twitter Ads UK and GlobalWebIndex has found that almost two thirds of Twitter users check the social network every day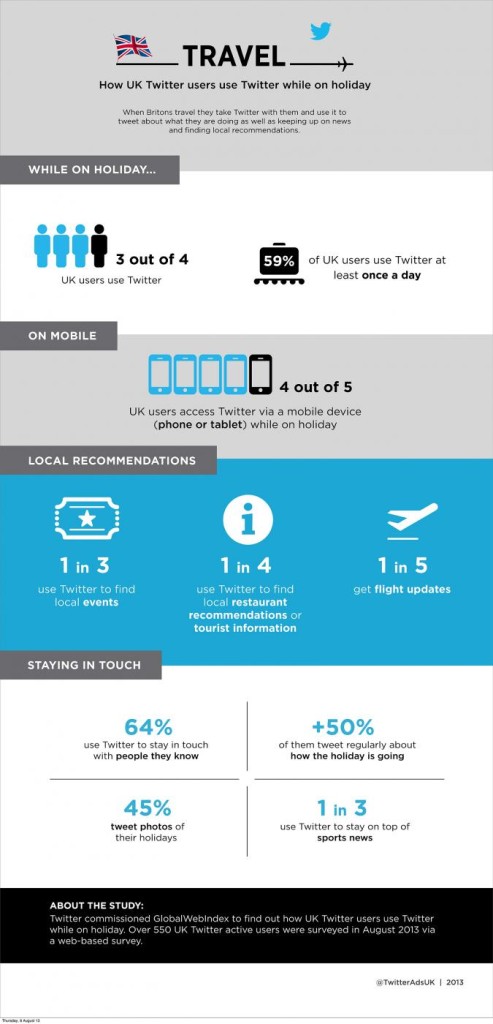 while on holiday. 64 percent of tweeters like to keep in touch with those back home, and a fifth use Twitter to check travel updates.
A spokesperson from Twitter said: "While many of us like to relax on holiday, we increasingly like to keep in touch with what is going on in the world around us, to catch breaking news, and check in with our friends back home as well. Overall, of those who use Twitter when travelling as many as 64 per cent use it to stay in touch with people they know while others use it to share pictures of what they're doing and search for local recommendations of things to do and places to visit."