Social Media Digest – LinkedIn makes us feel special (not), the Pope says ciao and more
1)      Linkedin celebrates 200 millionth user.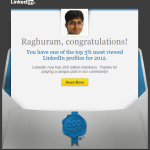 Come on, admit it. You felt like a superstar of the business and professional world when LinkedIn sent their celebratory 200th million user email to your inbox, we know we did. Being in the top one, five or 10 per cent is really special, so special in-fact that being encouraged to tweet about our coronation as kings of the world seemed a great idea. Then suddenly, other 'special' people began appearing on our timelines, tweeting their new-found reign over a kingdom. Whilst being dramatic is something that comes naturally to us, enjoying spam emails does not. LinkedIn may have created some buzz online initially, but many probably feel as we did, not so special at all.
2)      Zuckerburg, general all round nice guy.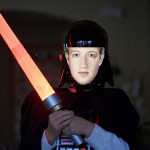 The Messiah of Social Media or Dark Lord of the World Wide Web? No matter how you view the Facebook founder, he has been an all-round good egg this week. It was revealed Zuckerburg and wife Priscilla Chan were among the top 50 generous donors of 2012, giving away a staggering $500 million worth of stock to the Silicon Valley Community Foundation, a non-profit organisation that helps gazillionaires distribute their wealth to good causes. So next time Facebook won't allow you to upload that photo of a cute, small furry animal, a plate of vile looking food or Friday night's drinks on the town, give the Zuckerberg a break. He's a good guy really.
3)      Poor old Cadburys.
Crème Egg hysteria is at its peak as Cadburys' seasonal offering is here, there and everywhere. The brand is currently in the middle of a multiplatform campaign highlighting the public's love for its chocolatey goodness. Can you tell we eat at least six a day? The social media element encourages users to tweet photographs of themselves and a Crème Egg in a loving embrace, using the hashtag #haveafling. Unfortunately for Cadburys, twitter was set alight after one user, who will remain anonymous, tweeted a picture of a Crème Egg up their………yes, exactly where you're thinking. We will say no more, but a simple twitter search of #haveafling will reveal all. Literally.
4)      The Pope calls it a day.
Pope Benedict XVI's decision to stand down as leader of the Catholic Church came as a shock to millions of people around the world. What didn't was twitter and Facebook's reaction. According to Raidan6.com, the Pope's news generated over one million social media conversations in the first 12 hours of the news breaking. Twitter accounted for 93% of the mentions. The Vatican only recently launched the Pope's official twitter account @Pontifex in December, so if you want to send him a nice little tweet wishing him well, don't let us stop you!