Social Media Digest: Instagram Video, Peppa Pig and Tourette's Syndrome
Instagram introduce video functionality
The internet worked itself in to a bit of a frenzy as Instagram CEO, Kevin Systrom, took to the stage at Facebook's offices in California to launch the social network's video application. With the success of Twitter's Vine App, Instagram had to react with a video option, the key difference between the two is probably the time length; 15 seconds for Instagram and 6 seconds for Vine.
Instagram has had the benefit of being able to sit back and watch where Vine has been successful and similarly where they have made mistakes. One of the biggest complaints by users of Vine is that you cannot start recording a vine and return to it at a later date, which is slightly peculiar considering the format lends itself to recording short bursts of action over a time period usually considerably greater than six seconds. As it goes, Instagram apparently failed to recognise this as well.
What Instagram has added however is the ability to go back to individual frames and delete/re-record them, a big deal for serious power users. It wouldn't be Instagram if you couldn't put a filter over your video, there are 13 specially created effects which can be applied to give you that 'hipster' effect.
One more significant new feature is "Cinema" which offers users the ability to stabilize old videos –  the presentation video of this really impressed me and I look forward to trying it out. It should be noted however that it is currently an iPhone only option.
One final note – the new Instagram features will roll out on ios and Android at the same time, something which Kevin Systrom placed great emphasis on, in a reference to Vine's slow roll out of its Android application.
Facebook Insights overhaul
This week Facebook announced the insights page has been given a refresh. The new features will give page owners more feedback on what content is working for them and why. Facebook claimed that this is what users have been asking them for and they are hoping they have delivered a tool which will maximise the potential of pages.
Peppa Pig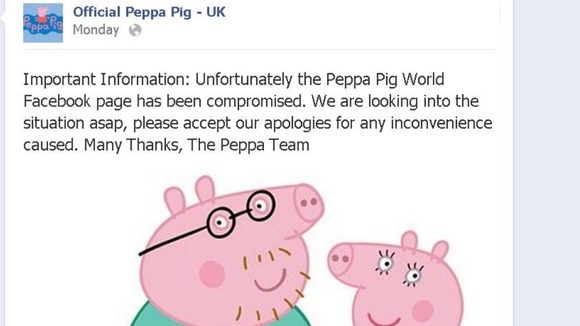 Poor Peppa Pig has been hacked! Facebook was in outrage as the popular children's character page told everyone to "Go to hell". The page, which has 130,000 likes, was being wrestled back under control by the brand after the unauthorised posts.
They released this statement:
'Unfortunately the Peppa Pig World Facebook page has been compromised. We are looking into the situation asap, please accept our apologies for any inconvenience caused.'
On a serious note, this does, once again, bring up the issue of making sure your account is protected as much as it can be and to have a procedure for shutting down the page should it be necessary.

Tourette's
A fantastic social media campaign launched by The Tourette's Syndrome Foundation of Canada gives users the chance to 'surrender their say'. In doing so they will hopefully get an insight in to what it's like to live with Tourette's syndrome for 24 hours – their Twitter account could say anything at any time to all of their followers. The concept of asking people to give up control of what they say is something which works so well with social media, I look forward to seeing some of the tweets this produces and the stats on how many people were willing to give up their say.