Social Media Digest – Instagram, PaddyPower, @TheAshes and more
Social media provides a 3:1 return on investment
A debate is raging about a study, conducted by the  Internet Advertising Bureau, which looked in to FMCG brands social media activity and concluded that for every £1 spent a total of £3.34 could possibly be earned in return. The key headline findings of the survey were:
"Research found four out of five consumers would be more inclined to buy a brand more often in the future after being exposed to its social media presence, while 83% of consumers exposed to social media said they would trial a brand's product"
The research was conducted using sentiment analysis from one group who were not usually exposed to social media activity and comparing them to a group who are exposed to the same brands across social media channels on a more regular basis, 4,500 responses were collected during the process.
Social media is still facing a fight to demonstrate that it can provide a meaningful ROI, as well as finding an industry standard to measure this with. Research like this is often faced with criticism, especially as it uses sentiment analysis which is quite widely regarded as being an inaccurate measurement as computers struggle to recognise sarcasm as well as words that can be use positively but have their definition in the dictionary as a negative i.e "shit hot"
Instagram FINALLY add an embed option
A much requested feature by Instagram users has finally been added to the service, giving you the option to embed your photos and videos directly in to web pages, as we've done here, by copying a code in the same way you would with YouTube videos. The only way to achieve this previously was via the use of a third party service, so it makes sense for Instagram to take ownership of this and offer the service direct to users.
To achieve this, there is a share button to the right of your photo or video, clicking on this will give you the option to reveal an embed code, this can be copied and pasted in to the code of a website or blog, please note this feature is only available when viewing Instagram on the web and it can only be used with your own content.
PaddyPower and Facebook take a big step
You will soon be able to bet on sports such as football and horse racing directly on Facebook using a PaddyPower application called PaddyPower in play. You have been able to gamble on Facebook for some time now, there are plenty of casino style games available, these caused a significant amount of controversy as it allowed gambling with virtual money for all ages.
It is certainly a big move for both companies and one that does make an awful lot of sense with the online gambling industry said to be worth around £2 billion in the UK alone.
BT Sport create digital beer mats
Blippar technology has been added to the first BT Sport beer mats that will be distributed to pubs and club showing their channels, scanning the mats will allow access to key stats on matches, competitions and voting polls.
I am expecting BT Sport to use new technology and social media as a key mechanism to promote their services and boost their offering, the market is directly there for them to access and if they can integrate digital and social media tools correctly in to live productions, they could give themselves an edge over SKY, with whom they are now directly competing with.
Helping out @The Ashes
Ashley Kerekes is a name you may not be familiar with.  However, her Twitter handle, @TheAshes, is going to be a hot topic over the next six months with England and Australia fans giving each other some stick as their sides go head-to-head in one of sports fiercest rivalries.
As a social media agency, here at Umpf, we like to keep social media organised and help out where we can.  So we approached Ashley several weeks ago and offered to design her a new Twitter header picture. Which looks a little something like this,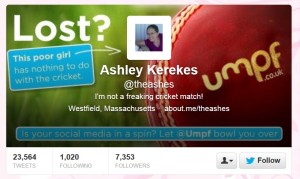 Ashley has maintained a fair chunk of followers and has been engaged in plenty of cricket debate so far, I think we could call her a cricket convert!
Our partnership with Ashley has gained some excellent media coverage in the The Metro, The Telegraph, The Drum and MSN UK.
Read more about our Ashes social media stunt.
For anyone wanting to talk social media, talk to Umpf or Tweet us @Umpf.