Social Media Digest – Gloves come off between Instagram and Twitter and Google Maps Returns
Social Media Digest
Instagram vs. Twitter
Instagram shuts off Twitter support >Twitter Launches Pictures Filter>Instagram updates its App in Response.
The on-going spat between Instagram and Twitter appears to have reached a rather unsavoury end with Instagram pulling all support for the Instagram cards for twitter users which allowed users to open up images directly within Twitter. The only remaining option is to go to that extra effort of clicking the link, and no one wants to do that, do they!
JackpotJoy 50FT Rubber Duck gains a social media buzz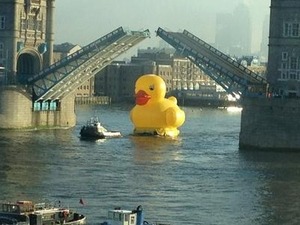 Never underestimate the power of a 50ft rubber duck floating down the River Thames. This simple but probably hugely difficult and expensive to organise stunt gained its fair share of social buzz. Images starting appearing in the morning and national coverage shortly followed as the duck sailed past iconic London landmarks. Bingo Company Jackpot Joy was behind the stunt as they encourage the country to have more fun as part of their new FUNdation campaign.
WedPics
Swap your disposable cameras on tables for a simple app. The technology works similar to many others out there which allow the aggregation of photos in to one gallery. A specific code puts users in to a feed for the wedding from then on it is possible to add friends who couldn't attend the wedding as well as download imagery. All in all quite a handy little application really.
Word Press 3.5 launched
According to Mashable WordPress has "evolved from a blogging platform into a CMS that powers about 17% of the web" . The new update includes support for retina displays, Tumblr integration and a brand new and refreshed media manager which allows for a more pleasant experience when uploading media. All in all it should all work a bit more smoothly.
Google Maps is back for IOS!
The failure of Apples native Maps which launched with IOS6 is well documented, missing locations, incorrect directions were met with much annoyance from the iFaithful who loudly voiced their disapproval upon launch. Google made us wait, possibly just to watch Apple squirm for a while and then as a sort of pre Christmas present they released the app into the appstore, It took just seven hours for it to become the App stores most popular free application.
We can all navigate safely home for Christmas now, thanks Google!
And Finally…
Control Christmas Lights
Control this offices Christmas lights via the awesome power of the internet, get yourself in the queue, wait for your one minute turn and have some fun. Merry Christmas.