Social Media Digest: Foursquare's post check-in ads, revamped Facebook Insights, bless you Twitter and Honda's Vine campaign
1. Foursquare started rolling out targeted ads to its users earlier this month, to appear immediately after they check in to a location.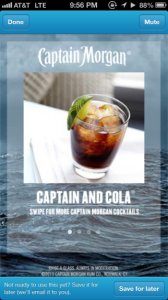 Rum brand Captain Morgan appears to be one of the first brands on board using the new ad service to reach and influence consumers as they are about to make a purchase decision. Foursquare users who check in at
certain bars, nightclubs or restaurants will receive the ad with bar order suggestions including "Captain and cola", "Captain and ginger" or "Captain Mojito". The owner of Captain Morgan, Diageo also plans on advertising its vodka brand Smirnoff via Foursquare post check-in ads starting in August.
Foursquare has currently declined to comment on how much a post check-in ad campaign will cost, but it will be interesting to see how this will be put to use in the future. We are to be assured that Fourquare will not allow for "conquesting"; its chief revenue officer Steven Rosenblatt has previously said in an interview that one brand will not be allowed to advertise to a user who checks in at a competitor's location.
2. It's been (tame) exultation at Umpf HQ this week over Facebook's makeover of its Insights. The update was rolled out to a small random group of beta testers on Wednesday, with a further rollout to follow in due course. The update is easier to navigate, simpler, cleaner, and in the words of my fellow Umpfer @Allllliiiii: "oooh, shiny!" Page owners will now have a greater insight into what's working (and not working) on the page, who likes the page and engages with posts, common traits of engages users and how the fan base is growing over time.
3. Bless you Twitter! It was revealed this week that Pope Francis will pardon followers via Twitter. Ordinarily, Catholics must attend limited services at the Vatican to receive such indulgences, but according to the Vatican's Sacred Apostolic Penitentiary publication, Pope Francis will be giving special "plenary indulgences" reducing time in purgatory to his Twitter followers. This comes in time for the World Youth Festival in Rio de Janeiro where Mass will be streamed online and the Pope will tweet out "rites and pious exercises".
Pope Francis (@Pontifex), the second pope ever to have a Twitter account, has more than 2.7 million followers.
4. Honda launched a brand new social campaign on Monday, where it plans to respond to tweets from customers using #wantnewcar with real-time Vine videos. All to encourage users to swap their old cars for new Hondas from its summer clearance sales event, specially customised Vine videos will be filmed and uploaded on the same day as the tweet was sent out. In a statement about the campaign, Honda said that "if a user mentions needing a new car to pick up a pizza, that Vine video response may feature a Honda dealer offering a great deal… with a mouth full of pepperoni".
See below for an example. Let us know what you think!
Hey @bwidow752006, head to the Honda Summer Clearance Event & stop wondering: http://t.co/Tw83GrkWpX #WantNewCar

— Honda (@Honda) July 15, 2013
5. On Monday the news broke that US sprinter Tyson Gay failed a drug test. Though he denied knowingly taking any performance-enhancing drugs, on the same day, Adidas announced that it had suspended its sponsorship with the 2007 world champion; a spokesperson from Adidas said "We are shocked by these recent allegations… Even if we presume his innocence until proven otherwise, our contract with Tyson is currently suspended."
Clearly this didn't sit well with the Twitter community, as stats revealed by YouGov show that this action created more of a social buzz around the brand than Andy Murray's Wimbledon win. Using social media analysis tool SoMA, YouGov reported that the day before Adidas suspended the sponsorship the brand had a Twitter reach of 4.6%, which rose to 17.4% after the news broke. Compare this with activity on Twitter around Andy Murray's Wimbledon victory, which earned the brand an estimated 6.7%, it means that the news of Tyson Gay reached nearly three times the amount of people.
Enjoyed the blog this week? Let us know your thoughts and feedback on Twitter @Umpf/@EllieHallsworth