Social Media Digest: Felix Falls, O2 Goes Urban and Haitians Get Hashtags
1.Red Bull Marketing reaches new heights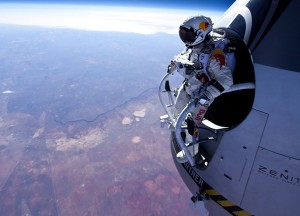 A brand not exactly shy from big bold marketing strategies Red Bull went a bit further this time by sponsoring Felix Baumgartner's attempt at breaking the sound barrier. This incredible feat as you will all know by now saw Felix jump from a specially made capsule 24 miles above earth.
The live stream of the event went on to beat the YouTube record for consecutive live streams, 8 million people were watching. It may have cost a fortune for Red Bull to get the project going but the amount generated in equivalent ad space will be phenomenal and the stunt will surely be talked about for a long time. Check out the video here
2.Bodyform gets praise for bold customer response
They get my vote for "Novel way to reply to a customer award"  Bodyform received this comment from a slight disgruntled male at their apparent misrepresentation of the female menstrual cycle and its subsequent symptoms.
The company liked it so much, they responded with this video , its straight talking and funny and I doubt it cost much to produce either. The video of cause spent the following days flying around social media and the company have been correctly praised for a clever piece of customer service/marketing.
3. O2 Gets Down with its Customer Service
O2's social media customer service teams have been praised before and they are at it again, choosing to reply in the same slang tone of voice they were spoken to seemed to go down well with the customer. Kudos to you O2!
4. Charity uses #FirstWorldProblems in a different way
"I hate it when my house is so big I need two wireless routers" This is a #FirstWorldProblem, the hash tag which satires the ridiculous things that we all sometimes complain about. The Water is Life charity has come up with an extremely clever campaign which sees local Haitians read out a series of first world problems to the back drop of their modest surroundings. It has caused a bit of a stir with some not happy about it, some labelling it one of the best charity campaigns ever. I think it is good.
5. The FA introduce social media code of conduct
In the wake of several years of sports stars getting themselves in a tangle because of comments made on social media sites The FA have introduced a new six page rule list for all England players to adhere to.  Here is one important snippet
"No Twitter or Facebook comments on the day before the game or the day of the game unless authorised."
I would say personally that it is after the game when tempers can flare that it is essential to keep players way from social media, the FA are continuing to develop and research in to their social media policies. Let's see if the players adhere to their new rules