Social Media Digest: Facebook's PinView, Star Wars Tweets and Dr Pepper High School
Welcome to this week's round-up of our favourite social media news – don't forget to let us know what you think about the stories below!
1. Pinterest is still hot property and there's no shortage of accompanying apps which promise to enhance your pinning experience – just last week we told you about Pinstamatic, which lets you pin locations, music, quotes, calendar dates, Twitter profile links, sticky notes and websites. This week, it's PinView. Rather than working alongside Pinterest itself, PinView is a Facebook application which lets you 'Browse Facebook like you browse Pinterest', capitalising on Pinterest's simple – but hot – design. Co-developer Thomas Petersen told Mashable: "It's popular because it allow you to quickly scan lots of pictures; that is the strength of this format. It's not something Pinterest invented, but they found the proper use for it". Clever stuff.
2. This is a nifty one! Microsoft has unveiled a Star Wars app which makes your Twitter and Facebook feeds appear like the movie's 'crawling' title sequence. The app is being launched to mark the release of the Xbox 360's 'Kinect Star Wars' game. It's available for free on Windows Phones, iOS and Android – Stephen McGill, director of Xbox and entertainment for Microsoft UK, says: "We are literally putting 'the Force' directly into people's phones".
3. Mega-popular photography app Instagram is still new to Android and has taken off well – reaching five million downloads in less than a week – but the app may have hit its first speed bump as IT security company Sophos has issued a warning on its Naked Security blog that a fake Instagram app is infecting Android devices with Malware. The malicious app relies on sending background SMS messages to earn revenue for its creators. Sophos is advising users to be sure that they download the app from an official Android Marketplace and be wary of standalone app sites.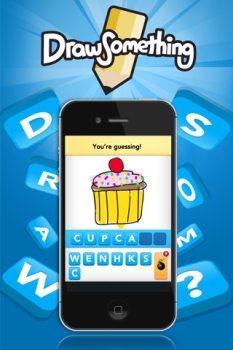 4. Pictionary-esque drawing game Draw Something has released an iOS and Android update just a few weeks after its creator, OMGPOP, was acquired by Zynga for $210 million. The update includes a variety of new features including the ability to save your drawing to your photo library (saving you from having to quickly screenshot the image to use for bragging rights – 'hey, look at my cactus!'),  comments, a 'last line' undo button and direct sharing to Facebook and Twitter. Interestingly, a few of us at Umpf HQ were initially hooked on the game but have recently lost interest and stats released this week suggest this is a popular trend. Did Zynga jump on board too early, or will the new updates encourage users to ready their drawing fingers?
5. Fruity soft drink brand Dr Pepper has released an interactive Facebook experience which lets users take a leading role in their own Dr Pepper advert. A 'Best Day of High School' microsite has been launched, allowing users to connect with their Facebook data and have a first person perspective through a day at an all-American high school which has been populated with images and info from your Facebook profile. Dr Pepper's interactive Facebook experience is fun and light-hearted – similar but less frightful than the recent Take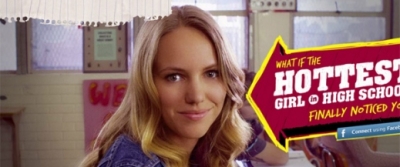 This Lollipop, The Swarm rollercoaster and Confused.com's House of Horrors apps.