Social Media Digest: Facebook's disaster prep, Twitter's wedding and Timeline arrives
Here's our round-up of some of our favourite stories floating in the social media ether this week – as always, don't forget to let us know your thoughts. Happy Friday!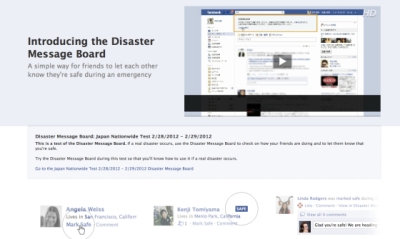 1. It was reported this week that Facebook has recently trialled a new feature which allows users to notify family and friends that they're safe during a disaster. The Disaster Message Board, which was trialled in Japan, features a 'mark safe' option which can be selected to show a 'Safe' icon on your profile. Facebook only briefly trialled the new feature, asking users to test it so that they'll know how to use it should a real need for it occur – the 'mark safe' option will only be visible during times of emergency. The message board also features emergency-preparedness tips and the ability to share info that might be useful to others during a disaster. We think that this feature has the potential to be incredibly useful, but we're not so sure about the ability to mark others as safe – false news spreads fast on social networks.
2. In similar 'social network to the rescue' news, Twitter is responsible for saving a couple's wedding after their chosen venue went bust. Just six weeks away from their wedding when the hotel's parent company folded, the couple lost their £4,500 deposit and took to Twitter in the search for help. Their SOS was retweeted by celebrities Davina McCall and Dannii Minogue and not only did they find a new wedding venue, they also received offers of jewellery, clothing and three-tier cakes while a magician, a wedding planner, a make-up artist and a photographer who all saw the cry for help donated free or reduced-price services. The blushing bride, Laura, said: "It just goes to show the power of Twitter. As soon as I posted my message on the website everything just went crazy."
3. You may have heard a little bit of noise about a new gadget set to be unveiled on 7 March – the iPad 3. The internet is abuzz with rumours and guesses about its new features – we reckon the iTV speculation is the most exciting.
4. Back to Facebook – Timeline for pages is finally here! As of Wednesday (29 February), brands have been allowed to fill in
and update their pages to the new Timeline design. Featuring a slick cover photo, redesigned app tabs and the ability to add Milestones in your brand's history, a few early adopters are already taking advantage of the new layout. We really like The New York Times' use of Milestones to outline the paper's history, as well as Red Bull's clever Timeline scavenger hunt. All pages will be bumped over to the new layout on 30 March and Facebook are encouraging page owners to fill in their blanks before the cut-off date. It's yet to be seen how the new layout will affect interaction with users – what do you think? Will the new Timeline design be more engaging? One problem that's already been flagged is that Timeline only rolls back to 1800, so bad luck if your brand's heritage extends further back in time.
5. Foursquare has this week left Google in the dust and has switched to using startup MapBox partnered with OpenStreetMaps after Google raised the price on its Maps API. OpenStreetMaps, which VentureBeat likens to a Wikipedia for geography, was chosen by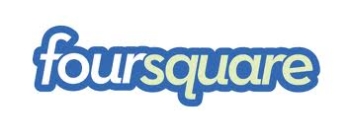 Foursquare for a number of reasons (outlined on its blog) including continuously-improving data and design flexibility – so we should be seeing prettier maps on Foursquare! Foursquare's Dennis Crowley also announced this week that he wants the app to become a recommendation engine, letting you know where friends have eaten or recommending restaurants based on where you've eaten in the past.