Social Media Digest: #Facebook, Google Dash and the Yolk's on Cowell
1. It's finally happened – you can now use hashtags on Facebook. Catching up to just about every other social platform, Facebook introduced clickable hashtags on the site yesterday in a newsroom announcement. According to the post, the move aims to bring more conversations together and enable users to see the wider view of what is happening surrounding a certain topic. Users will still be able to control the audience for their hashtagged posts and Facebook plans to roll out more features in the upcoming months, including 'trending' lists and deeper insights.
2. Skittles has launched an interactive YouTube ad campaign encouraging youngsters to smash Grandma's valuables in return for a
Skittles reward. The video, reminiscent of the Tipp-ex's 'Hunter Shoots a Bear' campaign, shows Tommy smashing a pink unicorn after it promises he'll receive Skittles if he does. Viewers can then choose other objects for Tommy to smash with varying consequences. A typically quirky campaign from Skittles, the Figurines campaign is fun and engaging.
3. Google has this week unveiled a new dashboard to allow businesses and Google+ page owners to manage various activities around Google tools, including allowing businesses to update their URLs and business hours across search, Maps and G+ quickly and easily. The new dashboard also lets managers update and respond to G+ notifications, start Hangouts, manage AdWords campaigns and check top-line stats, such as top searches.
4. You can't have missed #egggate last weekend – Twitter was full of yolks about the show following the egging of Simon Cowell by a member of one act's orchestra. Here are some of our favourites, via The Drum: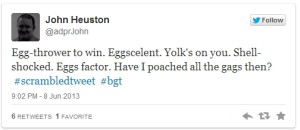 5. Finally, a shocking revelation:  if you use social media, you might be a narcissist. A study by the University of Michigan has found that frequent social media usage could be fuelling narcissistic tendencies in users – news that some of us might find unsurprising! Researchers found that young adults who regularly post to Twitter score higher in a measure of certain types of narcissism with Elliot Panek, a member of the team that conducted the study, noting that 'young people may over-evaluate the importance of their own opinions'. Middle-age users are more likely to use Facebook to curate their image and garner approval. How often do you check your RTs?