Social Media Digest – Facebook gets less active and…. Ed Balls
Facebook Q1 results revealed
Earlier in the week it was revealed that Facebook's active user numbers have dropped in the UK by almost 2 million to 26 million, according to data taken from marketing research firm Nielsen.  Facebook announced in these results that it now has 1.11 billion monthly active users around the world, almost a fourfold increase from this time last year.
These growth areas are not in profitable regions for advertising revenue, especially important as Facebook is now a publicly traded company and subsequently answers to shareholders which shifts the companies emphasis to a profit based one.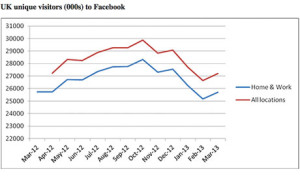 Facebook's UK numbers. Source: Nielsen
The report was positive for Facebook's finances as profits were up to a total of $219m in the first three months of the year, up $14million from 2012. Total revenue was $1.46bn, up $400 million in the same period.
Perhaps the most positive aspect for Facebook is the continued rise in mobile access – mobile advertising now equates to 30% of all Facebook advertising and it is fast becoming the most popular access point for active users in the developed regions.
Twitter Celebrates "Ed Balls" day in style
No weekly social media report would be complete without mentioning Ed Balls day. The second anniversary was celebrated on Sunday the 28th April, in honor of the Shadow Chancellor tweeting his own name and for some reason not deleting it!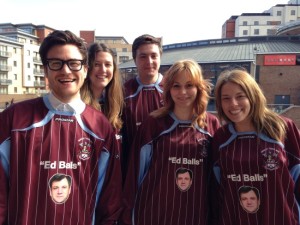 Here at Umpf we organised our very own way of joining in on this momentous occasion, you can read all about our "Ed Balls" football shirts in a previous blog post here. The stunt was featured on BuzzFeed, MSN, The Mirror and others.
 Self-Destructing Tweets
A new Twitter app is offering the ability to post self-destructing tweets – think SnapChat for twitter. Users can compose a tweet and set the desired amount of time for it to automatically delete itself. The program is called efemr and it was inspired by the need to protect how information we post may be used in the future. The app itself is a standard Twitter connect set-up it then monitors for time related hastags, for example #5m will delete your tweet five minutes from the time of posting.  As this article from wired.co.uk states, it is likely that the big potential here is for marketers or agencies likes ourselves to exploit time based competitions or campaigns.
Social Brands 100
The Headstream Social Brands 100 list was published this week over 700 brands from 23 industries were included. The announcement was only a shortlist and we will have to wait till the 23rd May to find out the final rankings. Last year Innocent, famed for their slightly wacky social media style were the winners, we will have to see if they keep their crown.
Retail brands make up a large proportion of the shortlist, in total 16 industries are represented in the top 100. Brands were ranked for 6 weeks on their Twitter, Facebook and Youtube activities.
Do you agree with the list? Are there any brands you think deserve a mention? Let us know by leaving a comment.
Path
Big news for private social media platform Path which has this week passed 10 million users. The site launched back in 2010, the emphasis behind Path is that messages and photos can be shared very privately amongst specific friends and family, without having to be shared to everyone on sites such as Facebook and Twitter. According to The Next Web the site hit 2 million users back in February 2012, it then took four months to rise to 3 million. The CEO of Path, Dave Morin now claims the site is gaining 1 million new users every week.  Much like with Facebook, active users is probably the most essential statistic as this what advertisers will look at when making decisions.
Certainly good days for Path, we will keep an eye out for their progress.
Instagram Updates
A significant update is now available for Instagram, the app has enabled a tagging feature which is almost identical to the one you will find on Facebook. The new 'Photos of Me' section will collate all the images you are tagged in, previously the only way this could be achieved was to @mention users in the captions. It is important to note that currently only the owner of the photo has the ability to use the tag function, you do have full control of any tag a user makes of you allowing you to delete or hide them if you so wish.
This video from Instagram introduces the new service http://vimeo.com/instagram/photosofyou