Social Media Digest: A Better Amercia, Women Love Social and Pinterest's Best Bits
Welcome to this week's round-up of our favourite social media news. Don't forget to let us know what you think in the comments, or drop us a tweet.
1. Facebook has just made some changes to the way that admins manage and post on their pages. A newly-updated Facebook Help Centre page explains how roles can be altered for each individual page admin while another outlines how to schedule posts to appear later – making some third-party apps such as HootSuite (the Facebook functionality of which has always been lacking) a little bit less useful. Posts can be scheduled up to six months in advance – great if you need to post around a key date. Very useful features – we like!
2. A Better Amercia – we all want one, right? We're not sure if Amercia sounds more like a new Mulberry bag, a car or a haircut,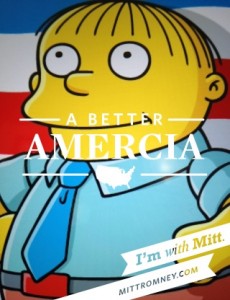 but it was most definitely a nightmare for Mitt Romney this week. Mitt launched his iPhone app on Tuesday, which lets users lay a pro-Romney banner over any image from their photo library. The app was supposed to be a celebration of Mitt's likely capture of the Republican presidential nomination after the Texas primary, but unfortunately due to a typo in one of the banners – A Better Amercia – it's become more of a laughing stock and has developed into somewhat of a meme over the past 72 hours. An update has been released that removes the offending banner from the app, but the old version is still working for those who want to work towards A Better Amercia.
3. A new study by BT has revealed that woman are more dependent on social media than men. The study questioned more than 2,000 Brits and found that while over half of female internet users access sites like Facebook and Twitter, only 34% of males do so. Also, 18% of women saidthat they'd miss social networking the most if the internet didn't exist, compared to just 7% of men. Do you find the results surprising?
4. Facebook will be housing up to 6,600 workers at its Silicon Valley headquarters after Menlo Park officials approved its expansion plans. Facebook moved from Palo Alto to its current campus last year, and currently employs 2,200 workers there. According to the LA Times, Facebook will pay the city an average of $850,000 per year over a decade to compensate for the additional workers in the area. Facebook will also make a one-off payment of $1 million for capital improvements and to establish community services, such as job training programmes, and will create a $500,000 fund to provide grants and charitable contributions to local communities.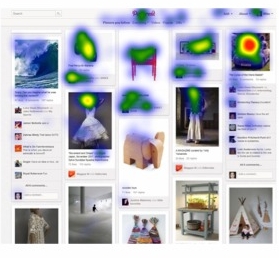 5. A study for Mashable by EyeTrackShop has revealed that while Pinterest looks different to other social networks, we look at it differently too. While most websites encourage users to gaze towards the left-hand side of the page, Pinterest users tend to glance from the top to the bottom down the middle of the screen. Observations include that (unsurprisingly) pins places top and centre are the most eye-catching, faces attract more attention than objects and profile info isn't as noticeable as profile content. Users also tend to like brands better after viewing their Pinterest page – a reason to get pinning if we ever heard one.