Social Media Better For Search Rankings Than Backlinks Or Keywords: SEO Report
In what could be a significant event for SEO strategists and brand managers alike, a report from Searchmetrics this week claims that social shares – such as likes on Facebook, Tweets, etc – has a higher impact on how a website ranks in Google than 'traditional' SEO tactics such as backlinks and URL keywords, etc.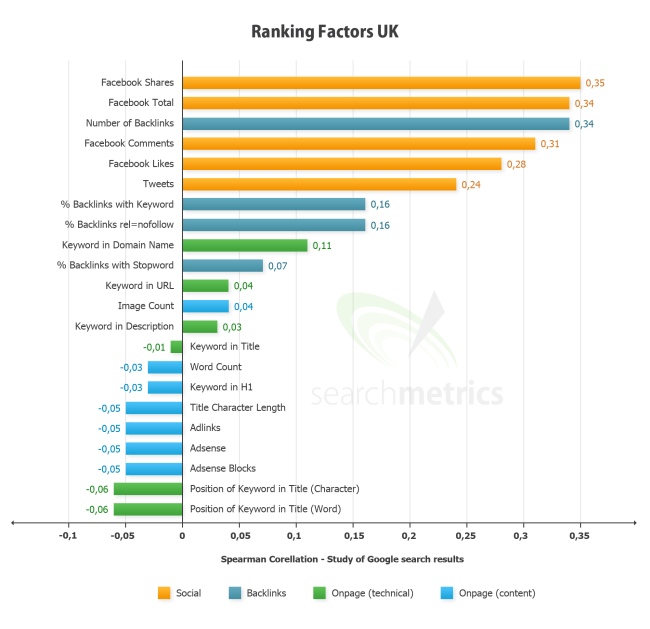 Google modifies its search algorithm sometimes more than 500 times every year and it's been no secret that social cues have been taking an increasingly more important role in that formula (see a full history of Google's Algorithm Change from 2000-present).
However, this latest report, which you can read a summary of on Econsultancy here and download the full White Paper here, is of huge significance to those planning brand marketing and digital strategies.
The report – if accurate – for the first time confirms that social is a more important search metric than some of the, to date, most commonly used SEO tactics.
In fact, of the top six most impactful factors in the White Paper Google Ranking Factors UK 2012 report, social media takes five of the spots; 'Number of Backlinks' being the only 'traditional' SEO factor, positioned as third most important in the list of 22 different factors.
For brands that have social at the heart of their marketing strategy, this will be welcome – if unsuprising – news.
For brands that have yet to embrace social media, all is not lost.  Adding social media into your marketing mix is easily done, meaning social shares can start to have an immediate impact.
The Searchmetrics  White Paper deals with the question of which factors Google could take into account in the UK when ranking websites. Across 15 pages it looks at how some factors correlate with positive search engine rankings and what actions can be recommended to improve SEO.