Snapchat: Our Favourite Campaigns and Top Tips For Using Snapchat Spectacles
Since Snapchat first appeared on the social media scene, brands have been using it to reach a wider -and younger – audience. Here are a few of our favourite campaigns. Also, take a look at our guide on how to use the brand new Snapchat Spectacles!
WWF #LastSelfie
The World Wildlife Foundation's #LastSelfie campaign used Snapchat's countdown functionality to highlight that time is running out for many of the 16,306 endangered species around the world. Using close-up shots of these incredible creatures, the snaps asked users to share, adopt an animal, or donate.
In just three days WWF reached its donation target for the whole month!
Here's a more in-depth look at the campaign.
Burberry and Mario Testino
Photographer Mario Testino teamed up with iconic fashion name Burberry to become the first brand to shoot and publish its advertising campaign in real time.
The brand gave a rare and unfiltered view into the creation of its Spring/Summer 2016 advertising campaign. The full campaign was available to view on the account for just 24 hours before it disappeared.
The campaign featured snaps captured by Testino, as well as footage of shoots in action.
First Politician to Host a Snapchat Live Story
Back in January, heart-throb, man of the people, and current Prime Minister of Canada Justin Trudeau became the first politician ever to host a Snapchat Live story. During a trip across Ontario, JT took to Snapchat to host a Q&A with users from university campuses across the country. Students were asked to send in questions in the form of snaps and, mirroring his other social channels, Trudeau responded to queries in English and French.
Although Snapchat had featured similar interviews with celebrities before, this was the first time the app had been used for politics outside the sponsored content realm.
Audi's Super Bowl Stunt
Audi collaborated with satire site The Onion to entertain fans during the Super Bowl halftime. With text like "Dog Doesn't Care Who Wins", the snaps were mocking the dull halftime period.
The campaign received 100,000 views on Snapchat, generated 2,400 mentions on Twitter, and was the fastest growing account Snapchat had ever seen, increasing by 9,000 people and reaching a total of 10,500 followers in 48 hours!
Calvin Klein: CK One
With an aim of increasing engagement on Snapchat and Tumblr to connect with the millennial generation, Calvin Klein asked celebrities to produce a series of selfies and videos in a room called the "Self Exploration Lab". Overall, they produced more than 200 pieces of content which were shared across the brand's social channels.
And here's how we've used it:
NHS Apprentices
To mark National Apprenticeship Week we created targeted Snapchat Geofilters showcasing apprenticeship opportunities in the NHS.
The Geofilters featured uniform overlays of five apprenticeship roles (Healthcare, Engineering, Pathology, Social Media, and Painting and Decorating), and were made available to members of the public in the area covering Job Centres in the UK's ten biggest cities.
The Snapchat campaign generated six pieces of coverage.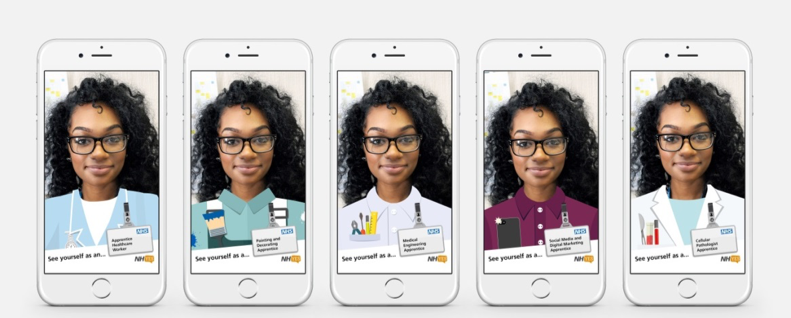 Rose Yorkshire Day Celebration
In celebration of Yorkshire Day at White Rose, Umpf created the UK's largest-ever bouquet of white roses, hosted floral buttonhole-making workshops, and also launched the shopping centre's first steps into Snapchat. Targeting the younger demographic of White Rose's audience, the Snapchat filter was viewed nearly 3,000 times during the celebrations and also featured in broadcast coverage of the event.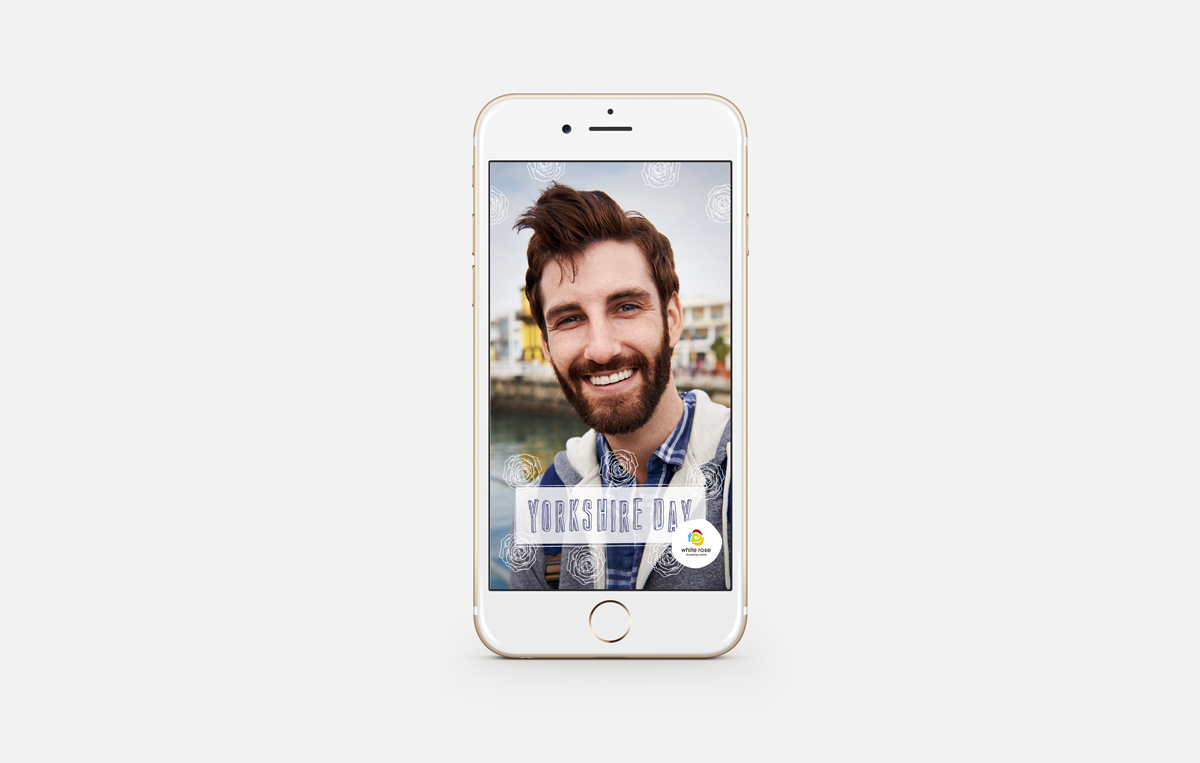 Student Night at Trinity Leeds
Umpf created the 'Real Deal' social campaign to mark the annual Student Night event at Trinity Leeds shopping centre, one of the most anticipated events in the calendar. As part of this, we launched Trinity's Snapchat profile and built specific Snapchat geofilters to support the events.  The Student Night Geofilter was seen by a whopping 58,656 people.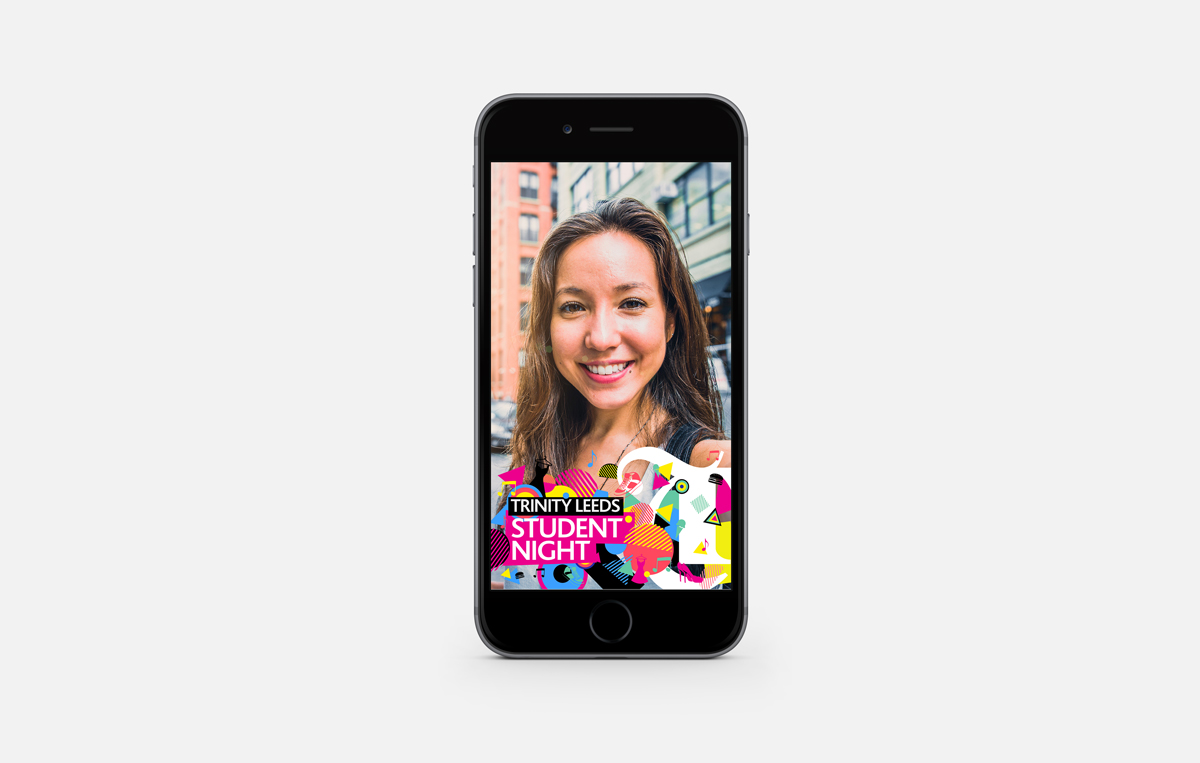 The Calls
Situated on the edge of the River Aire, The Calls is a red-brick digital and creative agency hub – and the street Umpf calls home.  Back in the day, this area was somewhat run-down, however after the emergence of ace coffee shops, residential areas, boutique hotels, and a buzzing nightlife – including incredible LGBT clubs and bars – it's become a regeneration triumph. That's why we thought it deserved its very own community Snapchat filter.
Snapchat's Community Geofilter capability encourages artists and designers to create and submit a free Geofilter for their city, university, a local landmark, or another public location.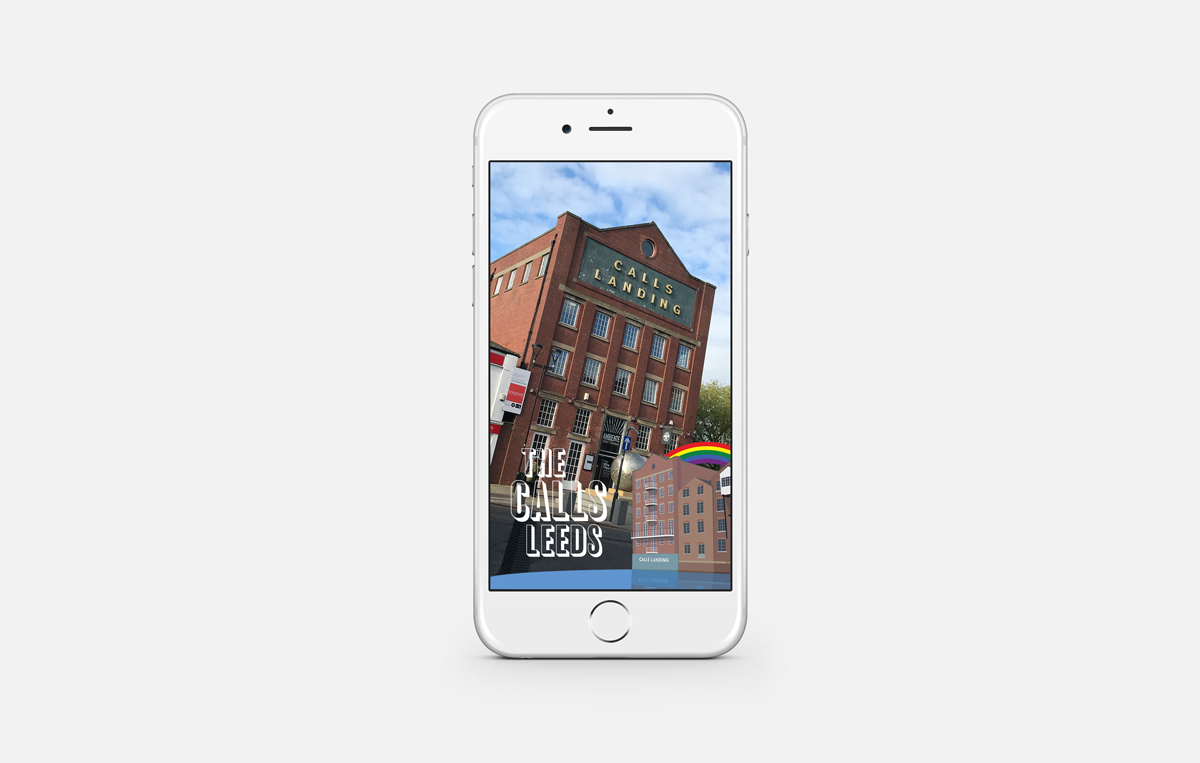 And new to the Umpf repertoire… Snapchat Spectacles
What are they?
The newest of Snapchat's hardware products, Spectacles are sunglasses with built-in cameras, designed to mimic how human eyes work. They operate in the same way as regular sunglasses and are available in black, or for the more daring among us, coral and teal.
How do they work?
Simply tap the button on the front of the glasses once to record a ten second video. To increase the stream to 30 seconds, press the button once more. A small light on the inside of your lenses will tell you that you are recording whilst a ring of bright LEDs around the camera will let the people around know you are filming.
How do I see my videos after I've taken them?
The videos are seamlessly transferred to Snapchat's storage feature, Memories.
How long does the battery last?
Spectacles have a built in, rechargeable battery which is replenished each time they are stored in their case*. If they've been fully charged, they should last for 100 ten-second videos.
*The case itself does need to be charged every so often, but we can't have it all can we?!
Has Umpf got a pair?
Of course! Our Designer picked up a pair for us on a recent trip to the States.
Keep an eye out on our social channels to see how we use them (and what we all look like wearing them): @Umpf