Ryanair: the slag of the cheap PR stunt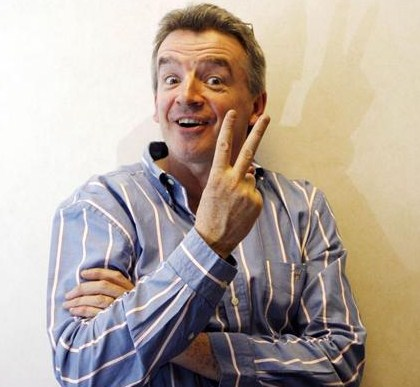 I think it was American showman Phineas Taylor Barnum who said "There's no such thing as bad publicity".
The 'all publicity is good publicity' mantra can be a dangerous furrow to plough.  However, if you don't mind the flack, it's cheap brand awareness tool.
And great link bait, too.
Take Ryanair – the slag of slags when it comes to the cheap PR stunt – which last week 'announced plans' (the first phrase they teach you at PR Stunt College) to remove up to three loos on its planes to squeeze in more seats.
But Mr O'Leary, above right, the airline's ringmaster and CEO, is the master at this sort of story.  Have a look through most of the online coverage and, just like Ryanair passengers, low cost key messages are squeezed in all over ("The company said ticket prices would fall by about £2 from a typical £40 tickets").
So, yes, less lavs; but it's cheaper to fly with Ryanair.
The bigger question for me is does 'making stuff up' to garner column inches and backlinks count as ethical behaviour?
That's a bigger debate.  In the meantime, here's my five favourite Ryanair PR stunts:
1. Ryanair 'plans' to have standing seats on its planes http://news.bbc.co.uk/1/hi/8779388.stm
2. Ryanair 'plans' to ban luggage – passengers should "buy or hire" what they need when they arrive at their destination  http://news.bbc.co.uk/1/hi/business/3878641.stm
3. Ryanair bans staff from charging their mobile phones to save costs  http://news.bbc.co.uk/1/hi/business/4467877.stm
4. Ryanair 'considers' charging passengers for using the toilet while flying http://news.bbc.co.uk/1/hi/7914542.stm
5. Ryanair 'proposal' for one pilot planes (part of wider Ryanair story) http://www.bbc.co.uk/news/uk-northern-ireland-11282834
One thing you may notice about these five examples – every one on BBC.co.uk, and every one with a gold-quality backlink from BBC.co.uk to www.ryanair.com… D'oh, that Mr O' Leary is very good.
BTW, read Louise Woodward's blog on some really clever travel social media campaigns.