PR Stunt, Fat or Fiction?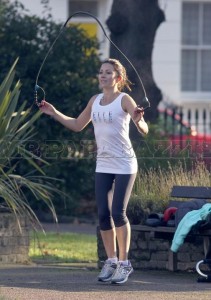 I love a good PR stunt and a celebrity weight loss story and this week I got two for one. Flicking through The Sun I spotted a picture of former GMTV weather girl Clare Nasir looking slim, toned and downright fantastic I was impressed.
The main reason the picture stood out (and quite probably the only reason it was even printed in the first place) is that in July this year Clare was 'papped' looking somewhat overflowing in an ill-fitting fluorescent, lycra bra top and shorts as she worked out in a London park. The picture appeared everywhere – from celebrity magazines to the national tabloids accompanied with cries of 'oh no, look at Clare.'
Fast forward six months and the transformation is both impressive and inspirational, so inspirational in fact that it turns out she is releasing a fitness DVD just in time for Christmas. Well why not, she's certainly got the perfect before and after picture I thought to myself …. hmmm, hang on a minute ….
At the time I remember thinking – why? Why, why, why did she do it? Cynics out there were quick to claim it was a stunt and that a fitness DVD was inevitable but her agent quickly rebuffed them.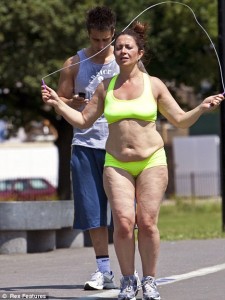 Not so it now appears. All celebs need a horrific before shot (usually papped on a beach looking beached) and Clare's certainly took the biscuit. Horrific, ill-fitting outfit, tick, wobbly bits on show, tick, being papped off guard, tick and all of sudden you have the perfect image to send Clare's DVD straight to the bestsellers list and the interview requests, photo shoots and press coverage pouring in.
So we've all, most of us still unknowingly, fallen foul to a very well thought out (yet unbelievably simple) PR stunt. It was almost certainly the very first stage in the DVD publicity drive and now likely to send Clare's profile (and bank balance soaring). And why not? Whilst celebrity fitness DVDs are big business, not all of them are guaranteed to be a hit so some creative thinking can go a very long way. Clare is hardly A-list so she needed stand out and this certainly did the job. Plus we can't forget that not many people would go outside in 'that' outfit to secure 'that' shot and then endure it being splashed across the media.
So all in all, a very simple, very clever and very successful PR stunt that looks set to reap Clare some big rewards.