May has flown by too fast! With two bank holidays, a bike race, royal wedding, a launch and an important reminder, we made the most of the last month of Spring. Read on to find out more…
Mat Healy x Foundry launch
We've been working with Leeds chef (and Masterchef: The Professionals finalist) Matt Healy on the launch of his first restaurant, Matt Healy x The Foundry. The restaurant officially opened its doors just in time for the early May bank holiday, so we started the month with a media launch ahead of time with attendees from the Yorkshire Evening Post, Leeds-List, House of Coco, and LeedsLive to name just a few. We'd tell you what a success it was – thanks to Matt's delicious dishes, an amazing refurb of the iconic venue, and a stellar front-of-house team, but we'll let a couple of tweets speak for themselves…
Fantastic visit to Matt Healy X The Foundry restaurant in Leeds this week ? New menu revealed ➤https://t.co/h3GD6G4ASb

Opens today ???#Leeds @matty2stone @MHFoundry @MasterChefUK @NicolasDixonart pic.twitter.com/7V4S3cIklr

— Yorkshire Food Guide ? (@yorksfoodguide) May 4, 2018
Yorkshire-born chef Matt Healy has revealed the menu at his new Leeds restaurant, 'Matt Healy at The Foundry', ahead of the doors opening on Friday.

Read more:https://t.co/wdRmed7Kzd pic.twitter.com/FOmYXroXyh

— Leeds Bars (@Leeds_Bars) May 3, 2018
The Foundry with chef Matt Healy from BBC's @MasterChefUK certainly did not disappoint: https://t.co/EkSqxnVRyO

— Freedom Quarter (@FreedomQuarter) May 3, 2018
#MindMay8
In the week running up to mental health awareness week, we worked with client MindMate to help spread the word about promoting positive mental health for young people in Leeds and raise awareness of the services MindMate offers.
In the lead up to 8th May, we created and shared a Thunderclap for people to 'donate' a Facebook or Twitter post to offer support.
On May 8th at 12pm, all who had signed up to the Thunderclap shared a tweet or Facebook update at the same time, causing MindMate and MindMay8 to trend in the Leeds area.
A host of people across the city got involved including MPs, influencers and businesses. MindMate messages were seen by almost half a million people with no paid promotion.
In the weeks leading up to Mental Health Awareness Week 2018, I'm supporting @MindMateLeeds It's vitally important that we promote good mental health, especially for younger people in our communities. #MindMay8 https://t.co/WWJ2esoqrG

— Rachel Reeves (@RachelReevesMP) May 8, 2018
I'm supporting MindMate Leeds to promote good mental health for young people. Share to support MindMay8 https://t.co/aufmshEknu ❤️

— Em Sheldon (@emshelx) May 8, 2018
We're supporting MindMate Leeds to promote good mental health for young people. Share to support MindMay8 https://t.co/I3oUuoBSfd pic.twitter.com/ANVhHpoy10

— NHS in Leeds (@nhsleeds) May 8, 2018
Wedding fever
How did you spend the Royal Wedding day – quaffing bubbles at a street party? Baking your own lemon cake to rival the royals'? What about planning honeymoons with Harry and Meghan at Leeds' own White Rose Shopping Centre? We secured two of the country's best lookalikes for a photoshoot and appearance at White Rose on the Royal Wedding day. How good were the lookalikes in person, you might ask? Good enough that we had more than one centre visitor hastily park their car to leap out and snap a mid-photoshoot selfie with our duo – only to end up immortalised in the Yorkshire Evening Post! Both LeedsLive and Yorkshire Voice came down to film the 'royal couple', and also to enjoy the lemon and elderflower cakes handed out as a gift from White Rose to celebrate the occasion (supplied by Leeds' own The Baking Biker).
Congratulations, Harry and Meghan! ?

Who spotted the couple browsing honeymoons and picking a film at Cineworld today? Our lookalikes have been snapping selfies with White Rose visitors this afternoon! #HarryandMeghan #RoyalWedding pic.twitter.com/29qGoL95oK

— White Rose (@whiteroseleeds) May 19, 2018
FREE cake alert! ? We're celebrating the #RoyalWedding with these gorgeous lemon and elderflower cakes from @TheBaking_Biker – come and grab one in the Central Atrium while stocks last! #harryandmeghan ?? pic.twitter.com/0zZxFb7tB2

— White Rose (@whiteroseleeds) May 19, 2018
Pedal Power
It was hard to miss the Tour de Yorkshire build-up ahead of the race in early may. The Trinity Leeds team ensured the centre gained national attention as we created the city's largest ever Tour de Yorkshire 'yellow bike', measuring 31 metres wide. The eye-catching artwork stretched across the glass dome of Trinity Leeds and involved weeks of planning, five days of painstaking construction and an 80-piece jigsaw of yellow vinyl.
It was officially unveiled by Welcome to Yorkshire's Chief Executive Sir Gary Verity, alongside Christian Prudhomme, general director of the Tour de France, and former cycling star Thomas Voeckler.
Tour de Yorkshire selfie spots were also created in Trinity Leeds so shoppers could snap the best pictures of the bike.
The Trinity Leeds bike generated 26 pieces of coverage across print, online and broadcast, including spots on Good Morning Britain, as well as Eurosport and ITV4 which broadcast live aerial shots from their helicopter. It was also featured on BBC Look North, ITV Calendar, Radio Aire, Yorkshire Evening Post and The Yorkshire Post, to name a few, as well as business titles such as Retail Gazette and Retail Times.
???Delighted with our @letouryorkshire #TDY ?‍♂️ stunt for @TrinityLeeds. The 31 metre-wide yellow bike sits across the glass dome and took five days to build. Thanks @sandinyoureye @DCdotcodotuk @sdphotos1 #TrinityTDY pic.twitter.com/oevrVLAmG8

— Umpf (@Umpf) May 2, 2018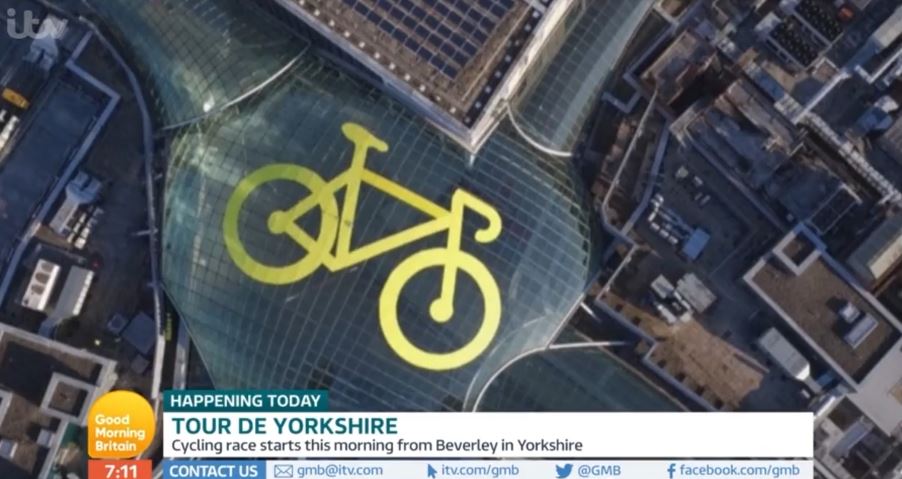 An apple a day
With clients Trinity Leeds, White Rose Centre Leeds and Westgate Centre Oxford, we headed to the Oscars of the retail world – the Purple Apple awards, where the Trinity Leeds team won a Purple Apple Merit Award for Strategic Marketing thanks to the Wonder Gift Reboot. This project saw our very own Umpf Studio work alongside the Trinity Leeds team to overhaul their gift cards with a new look and feel.
The project significantly drove gift card sales, and also included a PR approach from the Umpf team, with the launch of the World's first Deliveroo-style gift card service for emergency Christmas gifting.
We're at #RevoPurpleApples with ace clients @TrinityLeeds @whiteroseleeds & @WestgateOxford ? pic.twitter.com/7mXi7ZYQuX

— Umpf (@Umpf) May 10, 2018
Great effort to @TrinityLeeds and congrats on your merit win in our Strategic Marketing category!!! ?? thanks to our category sponsor @BWP_Group #RevoPurpleApples

— Revo (@RevoLatest) May 10, 2018
Like what you see? For work or jobs, get in touch via info@umpf.co.uk or come back next month for more insights into what we do.