Summer's arrived, a heatwave is here, the football is in full swing and all is well – cast your mind back and check out what we got up to in the month of June…
Dakota launches Champagne and Cocktail Terrace
We've been working with Dakota Deluxe Leeds to launch their Champagne and Cocktail terrace on Greek Street, just in time for the summer heatwave.
In partnership with Moet & Chandon, the new outdoor terrace offers a lavish new drinking experience for those looking to enjoy a tipple alfresco. Serving a tempting menu of sparkling cocktails and refreshing drinks, accompanied with small plates, the terrace has really gone down a treat with not only the locals but the media too.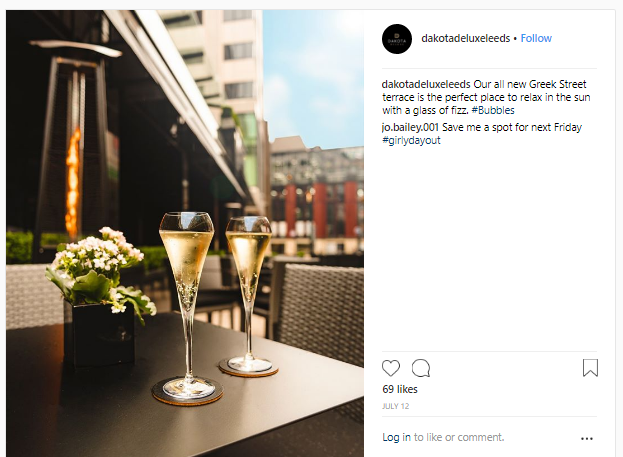 World's Coolest Car Parks
To celebrate creativity and design in buildings often perceived as dull and dreary, this month, we have been working with Looking4.com to launch their World's Coolest Car Park competition, a PR and SEO campaign.
From Amsterdam to The Alpes, Brussels to Belgium, ten of the worlds spectacular parking sites were shortlisted by Design Curial and Looking4.com and have competed in a public vote to decide which would take pole position.
The shortlist alone generated 31 pieces of coverage across print and online, including the i Newspaper, BBC Online, The Times and Yorkshire Post. It was also featured nationally on Radio 2 (Belguim), Seattle Daily Journal of Commerce (USA) and GQ Italia (Italy) to name a few.
Crucially, it has also been generating valuable links back to the client's site.  Cool.
The winner will be crowned in July – stay tuned!
#WCCP18 VOTE FOR ROBOTIC PARKING SYSTEMS FOR 2018 WORLD'S COOLEST CAR PARKS — https://t.co/4oNZ4ifRma pic.twitter.com/p0Lye3e4hc

— Robotic Parking (@RoboticParking) June 13, 2018
Votes are open!
Our parking building for @ClinUnivStLuc is nominated for the World's Coolest Car Parks 2018 #WCCP18 #carpark #brussels @MODULO_BE together with @GAFArchitects pic.twitter.com/vT5sRlQ47H

— MODULO architects (@MODULO_BE) June 20, 2018
Celebrating Eid
Eid is a major event for White Rose Shopping Centre's local community, and Umpf was on hand to support with a weekend of free celebrations including…
Intricate henna artwork and a colourful photobooth…
Celebrate Eid with us this weekend – we've got FREE henna art, an amazing photobooth, and dancers from 1pm ✨ pic.twitter.com/nN1V08vOfd

— White Rose (@whiteroseleeds) June 9, 2018
…plus, amazing dance demonstrations
Catch our beautiful dancers again at 2pm, 3pm, and 4pm! pic.twitter.com/2cV48wxDih

— White Rose (@whiteroseleeds) June 9, 2018
The events were popular with centre visitors, and were an opportunity for the community to learn more about the holiday of Eid.
Child's play at the White Rose
It was a busy month at White Rose, as we also launched the centre's new play area – the final part of the centre's £25 million investment into its new outdoor leisure area The Village, which includes an 11-screen cinema with IMAX and five new restaurants. The area has also been deemed a Smoke Free Zone, in partnership with Leeds City Council and Child Friendly Leeds.
To promote the new area far and wide, we equipped some competition winners with GoPro cameras and let them loose to create this fun – if a little dizzying – video…
Looking for something fun to do with the family? Check out our brand new play area… it's free too!

If all that play works up an appetite, we've got lots of yummy restaurants for you to choose from ? https://t.co/l2AiLXjf4i #playarea #whiteroseleeds #fun pic.twitter.com/veSKMZJU6E

— White Rose (@whiteroseleeds) July 16, 2018
World Cup feasting
Jumping happily on the World Cup bandwagon, we gave ourselves an excuse to fill our faces with a special World Cup lunch. Each team member brought a dish from the country they'd picked in the office sweepstake and we feasted!
V. successful @Umpf @RightAgency World Cup fuddle ?? pic.twitter.com/B9UwTmrdbg

— Alessandra Gritt (@GrittAlessandra) June 28, 2018
Like what you read – get in touch for jobs or for work by emailing contact@umpf.co.uk or tweeting us at @umpf