A round up of our favourite PR campaigns from the past few months …
Vampire Drinking Fountain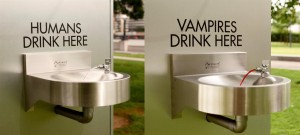 We like this cheeky stunt by HBO as part of their 'campaign for vampire rights in London'. The TV channel has installed the UK's first ever bi-species drinking fountain in London – suitable for humans and vampires.
The fountain includes a tap for drinking water and a tap for drinking 'Tru:Blood' – the official blood substitute to stop vampires' thirst for humans (apparently).
Budweiser's Flash Fans
Back in December Budweiser turned a hum drum Canadian local league hockey match into the match of a lifetime thanks to its 'Flash Fans'.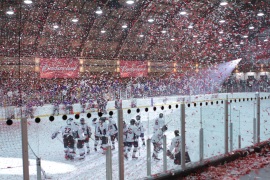 The drinks company bussed in over 500 fans to the Toronto match between Les Amigos and the Toronto Generals, taking the teams by surprise and elevating the game to a pro-style match.
Budweiser filmed the whole thing and used the footage as an ad during the Super Bowl.
Ben Seaton, Marketing Manager for Budweiser, said: "Budweiser strongly supports hockey and Flash Fans was our way of honouring all of the passion and hard work of rec players. The ad captures the incredible excitement of a league game that has been elevated to new heights with all the elements of a professional game."
A great take on the traditional flash mobs of yesteryear. Watch the advert here:
Sainsbury's Giraffe Bread
This one has been doing the rounds since May last year but now it is official – Sainsbury's has changed the name of its Tiger Bread to Giraffe Bread thanks to Lily Robinson (aged 3 ½).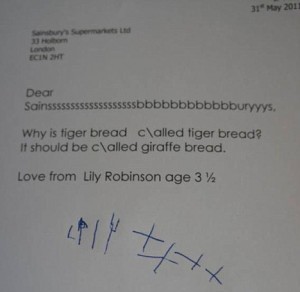 It all started when little Lily wrote into the store to ask why it was called Tiger Bread when it looked more like a Giraffe. Sainsbury's replied saying that it was a very good point and sent Lily a gift voucher. A Facebook campaign ensued (obviously) and lo and behold ten months down the line Sainsbury's have changed the name and will 'see how it goes'.
A cute story with some fantastic coverage for Sainsbury's who are currently being heralded as customer service kings. Nice work Sainsbury's.
Tropicana Sun
An ambitious (and undoubtedly expensive) stunt by Tropicana saw the drinks company light up Trafalgar this January with a giant fake sun (hoisted up by a large crane) giving off the same amount of light as 60,000 lightbulbs.
The idea was to brighten up a gloomy January Monday morning with the gigantic art installation as part of Tropicana's 'Brighter Mornings' campaign. The brand also provided deck chairs and free Tropicana samples (of course) to passers-by who wanted to 'soak up some rare winter sunlight'.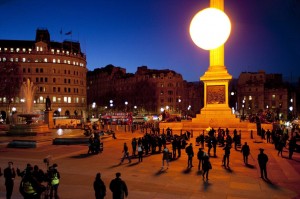 Whilst the official press shots do look impressive, pictures taken once the real sun had risen aren't so striking. The crane also spoils the effect somewhat. We like this idea for its ambition and it certainly got us talking, however it would be interesting to know what the final ROI was for the client.
#MakeItCount
Nike is capitalising on footballers and their growing obsession with Twitter with its #MakeItCount campaign. Stars including Rio Ferdinand, Theo Walcott, Alex Oxlade-Chamberlain and Wojciech Szczesny stepped on to the pitch in January with #MakeItCount and their Twitter names stitched into their boots.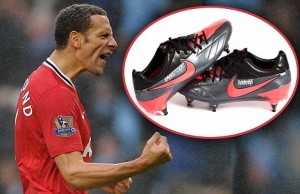 The move marked a historic moment in Barclays Premier League history, with the players promoting Twitter on the pitch for the first time, according to the Daily Mail.
Walkers – What's Your Flavour?
We love a bit of food art and Prudence Staite is fast becoming as famous as her food-based creations. It is only fair that we give a quick mention to her most recent creation for Walkers – Gary Lineker immortalised in 28 punnets of blueberries, 16 aubergines, 31 packets of mushrooms and 72 pieces of cheese – tasty.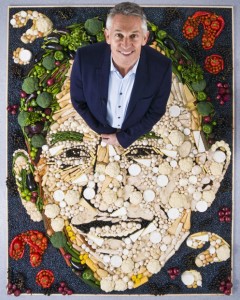 Muppet Madness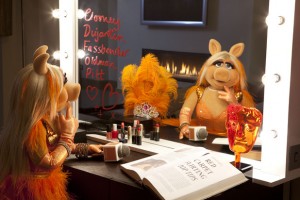 So far in 2012 there has been no escaping The Muppets – from Miss Piggy being featured on the front cover of Sunday Times style, giving fashion advice in Grazia and being named the 'official red carpet host' of the Baftas, to appearances on the Jonathan Ross show, Radio One Breakfast Show and countless newspaper features – they have been everywhere. Even the Guardian ran an online poll asking who is better – Kermit or Miss Piggy.
The reason? They have a film to promote of course. Whilst there is no denying that The Muppets are legendary and the reason they have had some much exposure is simply because they are 'The Muppets' – you can't deny the enormity and scope of the press coverage the campaign has recieved.