PR and Social Media Competitions: The Good, The Bad and The Ugly
Social media competitions often divide opinion. On one hand, they're great for building an audience to engage with and to draw attention to new products or key messages. However, on the other hand, some see them as equal to the underhand tactics of purchasing fans.
It's also very easy for things to go wrong with social media competitions – just take these few examples:
– Quantas' failed #QuantasLuxury Twitter competition, launched during disputes with its workers which saw some disruption to

services, led to a torrent of Twitter rage. Instead of tweeters hoping to win one of 50 sets of luxury pyjama and amenities kits, Quantas saw a great deal more tweets along the following lines…
"#QantasLuxury is sitting in your first-class lounge chair, watching a failed social media campaign get out of control."
"Giving yourself a pay rise whilst grounding your whole airline and taking local jobs offshore"
Well. At least #QuantasLuxury was trending on Twitter during the failed comp…
– Phone network EE caused controversy with its Glastonbury ticket giveaway blunder earlier in the year. EE launched the competition via Twitter earlier this year with ten sets of tickets to give away, asking participants to recreate iconic album covers using unusual materials for their chance to win.
The competition was so successful that EE extended the competition to Facebook as well, however due to the competition T&Cs not being changed EE was left without enough tickets  to award to all 15 winners (10 Twitter winners as stated in the T&Cs and the additional Facebook winners).
Twitter user @Terry_Finnegan was one winner that was offered Ticketmaster vouchers to the value of two Glastonbury tickets, despite the festival having been sold out for months. A Twitter storm erupted demanding that EE #GiveTerryHisGlastoTickets – no doubt a nightmare for the team behind the comp.
Rival network O2 were quick to jump on the bandwagon and save the day, tweeting Terry "Fancy some free O2 Academy tickets for the rest of the year, on us? Drop @O2Priority a DM. #GiveTerryHisGlastoTickets".
As it turns out, EE did manage to dig up extra Glastonbury tickets to ensure that all of the competition winners' prizes would be honoured but it was already too late – the social damage had been done and a competitor had saved the day. Bad news all round for EE, result for O2 – and Terry Finnegan, who enjoyed both Glasto and a year of free O2 Academy tickets.
While the above examples might put you off social media competitions for good, it's not all bad. Sometimes, it goes exactly as planned as these examples show:
– American food chain Chipotle's 'Wrap What You Love' social competition was a resounding success. Created to promote the quality of Chipotle's ingredients and the brand's passion for its food, Chipotle asked its social media audience to wrap what THEY love in silver or gold foil with the winner set to receive a $10,000 cash prize.
The competition received over 1,300 entries and 96,095 people voted on these entries – a great result, especially as Chipotle donated $1 for every vote received to the FamilyFarmed.org charity. The overall winner? One proud dad who wrapped his brand new four-day-old 'burrito' in gold foil –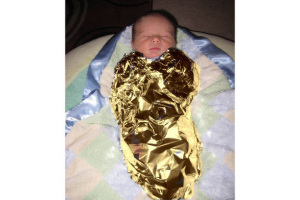 – KFC's Colonel must've been feeling extra generous back in 2010, as the fast food chain launched a competition to give away a $20,000 scholarship via Twitter to promote its Colonel's Scholars programme and the brand's key message of valuing education to its target demographic – families.
KFC asked participants to tweet using the hashtag #KFCScholar and let the Colonel know why they should be the winning recipient – Amanda Russell was named winner for the following tweet –

Over 2,800 tweets were received using the #KFCScholar hashtag – a great result.
– Couldn't not mention this one and blow our own trumpet a bit: to celebrate its 70th birthday, British refrigeration brand Lec launched a competition to create a one-of-a-kind custom ice cream flavour that would be distributed to 20,000 visitors to the BBC Good Food Show.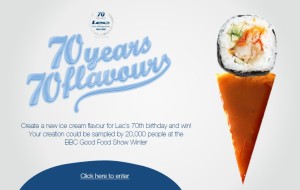 Lec pinned 70 flavours – including everything from grass to Guinness – onto a dedicated Pinterest board via its website and asked participants to pin up to four flavours to create their ideal ice cream flavour and tweet them using the hashtag #LecIceCream. Out of over 100 entries, ten flavours were shortlisted by Simply Ice Cream, who would be creating the brand new flavour. The shortlist was then put to a public vote on Facebook – covering all of the social media bases – with the winner being named as CocoCherryFudgetastic, which was created by hand and distributed at the BBC Good Food Show. A fun competition to celebrate the brand's birthday, combining social, experiential and tasty ice cream.
So, how to ensure that your brand's competition falls into the latter category above? Here are some basic dos and don'ts when it comes to running competitions via social media –
– Do offer a relevant prize. What does a year's supply of XYZ have to do with your business? Are you just trying to drive up numbers? Remember that you want real, relevant fans on your page, not just people who are going to jump ship when your comp finishes
– Do stick to Facebook, Twitter or any other platform's rules and regulations
– Don't forget to tell everyone about your comp! Hashtags are your friend – using #comp and #win in your tweets relating to the competition will definitely help. Promoted tweets and Facebook ads are also a great way of spreading word for minimal cost
– Similarly, do cross-pollinate! Tell everyone on Facebook about your Twitter competition and vice versa: there will always be people following you on one platform but not the other and this is a great way to merge them
– Do ensure your competition runs on most browsers and is mobile-friendly
– Do cover yourself when choosing a winner – ensure this is picked randomly if this is what you've stated, or that judging is fair
– Don't forget to analyse how your competition went – TweetReach is perfect for Twitter competitions using a hashtag. This makes it easy to repeat your success – or not make the same mistakes – next time you run a competition online
– Do gather data. If your entrants okay it (you must give the option to opt out), gather their details to add to your mailing lists
– Do write clear terms and conditions and STICK TO THEM
– Do stay in touch with your winner once the prize has been fulfilled. It's great to keep conversation going on your channels if you post quotes and pictures from the lucky winner
– If you're running a contest where entries will be public, don't forget to screen your entries! You don't want untoward comments or lewd photos making it on to your newsfeed…
– Do use as many opportunities to promote your brand and key messages as possibly within the contest, but…
– Don't make it salesy! Too much promotion will put entrants off
– Don't buy fans or likes. Just DO NOT do it. You might've caught the recent Dispatches on Celebs, Brands and Fake Fans – it makes it looks easy to buy thousands of clicks from various corners of the world.  It's against most of the social networks' rules and it's just plain unethical – don't be tempted!