Pinwheel is the latest social media site to launch, with invite-only testing on the cusp of finishing as we speak. Fresh from Caterina Fake, the lady who bought us Flickr and Hunch, the platform has quite a pedigree, so what to make of the latest addition to the rapidly expanding roster of platforms?
In essence, Pinwheel incorporates elements of Foursquare's geography, with Instgram's photo-sharing and the hints and tips functionality which is sure to make it of interest to the social media conoscenti and, Caterina hopes, lots of members of the public.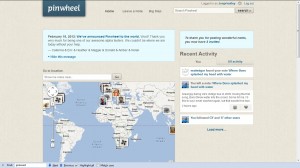 The idea is that you find and leave notes around the world, pinning your text and photos to various geographic locations. It's like a large-scale geo-diary, with mementos and musing shared either with your select band of followers or with the general Pinwheel populace.
As you can see, users can scan the map, zooming in and out to see where others have left notes, whilst also updating their profiles with more notes as time goes by.
Here's what happens when you want to share a post:
It's easy to leave a note – using the auto-complete geographic locator which syncs up with Google Maps you can choose any location across the world and then entitle the note and leave some more details about what happened there. You can also attribute a photo to the note and select whether you want the note to be shared publicly or just amongst your followers.
Here's what the personal profile page looks like too: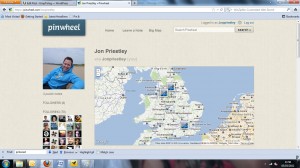 You can easily see where you've posted, who you're following and who follows you. It's simple, easy to navigate and fairly intuitive too – anyone with a vague awareness of social media platforms should be able to get their heads around the interface without difficulty.
So, now you've seen the platform itself, the real question is, do we think it will prove to be a popular platform? Whilst it's too early to tell, the sharing notes function is a nice device that makes the platform feel a little bit more 'human' than Foursquare. Without the added financial incentives of checking-in or the badges function, Pinwheel feels that little bit less tainted by commercialism and perhaps more appealing as a result. We really like the way the platform integrates Google Maps smoothly and effectively, along with the simple following/followers function too.
All in all, it's a nice platform that should gain a good following, but we're not sure it will really set the social media world on fire. The functions it offers aren't really unique to the platform, nor does it bring a radically new twist on existing platforms. That said, it's a great platform to look at and really slick and easy to use.
But what do you think? The first two people to retweet our blog will get an email invite to suss out the platform themselves. We're looking forward to your feedback.