Pinterest: Creative uses of the pinning platform
We're big fans of Pinterest and although we're iffy on the profile redesign, we're sure the site's popularity isn't going to be on the wane any time soon. Here are our top five favourite examples of cool and creative uses of the platform…
1. First up is Peugeot Panama's new competition which asks users to complete puzzles in order to win prizes. Peugeot has created a number of boards which show models with pieces missing – users can search for pieces of the puzzle on Peugeot's website or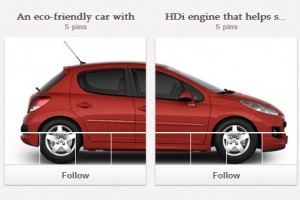 Facebook page and repin them on their own Pinterest boards to complete the picture.
Peugeot explains on one of its competition boards: "This is a 5 piece puzzle of a Peugeot 207, as you can see there are 4 pieces missing. Look for them in our website (peugeot.com.pa) or in our Facebook fan page (www.facebook.com/profile.php?id=1797346790), pin them in your own board and share it with us. The first 5 people to complete their boards win!"
The only downfall is that the competition dynamics are a little bit complex – maybe due in part to Peugeot having to change the competition following Pinterest's redesign. Nonetheless, this is one of the more original competitions that we've seen run on Pinterest – well played, Peugeot.
2. More and more web-savvy job hunters are using Pinterest to pin images of a visual resume or create boards with examples of their work to serve as an online portfolio:
Michelle Magoffin showcases her skills with a clever infographic: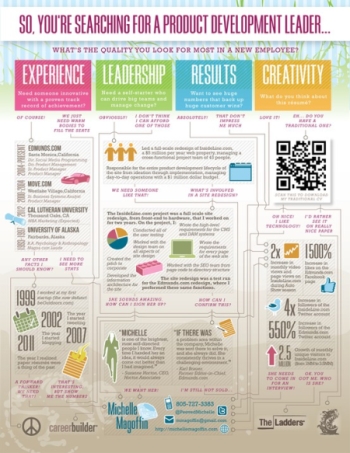 Michael Mahle makes his comms experience in the world of wine clear with a nice visual CV: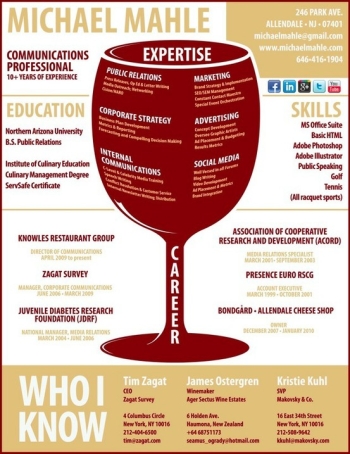 Christopher Penn has created a resume board including photographs, QR codes, an intro video, contact methods and examples of his work: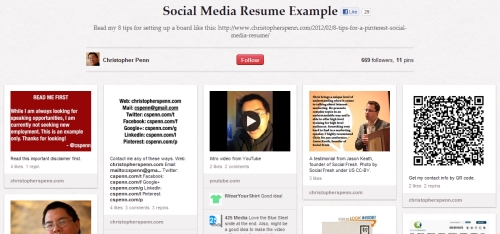 3. Lands' End Canvas was an early adopter of Pinterest – the brand ran a successful 'Pin It to Win It' competition in December 2011. Users were asked to pin items from the Lands' End Canvas website to their own boards, with the most creative pinners each winning a $250 gift card. Michelle Casper, Director of PR at Lands' End, told Mom Blog Magazine: "We know our Lands' End Canvas customers are very socially savvy, early adopters and currently engaged with us on Facebook and Twitter… Pinterest is the intersection of style and social and is a natural, visual platform to showcase the lifestyle and relevant appeal of Lands' End Canvas".
4. BMI also recently launched a similar competition appealing to holidaymakers, asking users to repin images from its boards of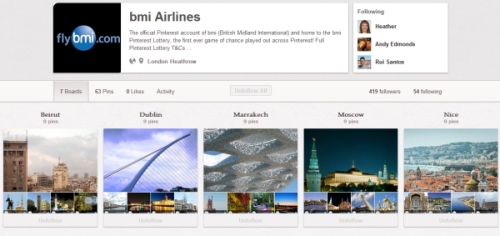 where they'd most like to go on holiday, with the winner receiving free flight tickets. BMI also promotes the competition and announces winners via its Tumblr, creating more of a dialogue with users than Pinterest currently allows. Repinning competitions, increasingly common on Pinterest, are proving to be a great way of sharing products with a new audience while encouraging click-throughs back to your site. Most Pinterest users (myself included!) use the site to create visual wishlists, and repinning competitions appeal to these users without being overly commercial. Clever – yet simple – stuff.
5. Fashion brand Calypso St. Barth enlisted well-known fashion blogger Christine Martinez (the fourth most-followed Pinterest user) to 'live pin' a photo shoot for the brand's summer 2012 look book. Before her trip, Christine pinned what she was packing to a board on Calypso St. Barth's profile – allowing the brand to share Christine's popularity on its profile and drive traffic back to its website.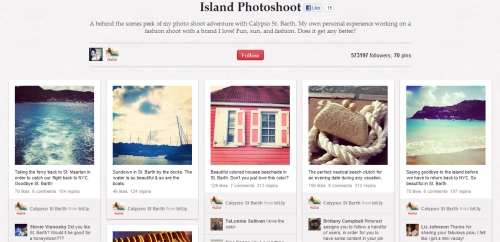 Calypso St. Barth then flew Christine to the Caribbean photo shoot in exchange for her pinning photographs of her trip to a board on her Pinterest profile.
Leslie Hall, President of Calypso St. Barth's marketing agency ICED Media, told Mashable: "The reason this program is primed for success is because Christine is an actual Calypso shopper and her boards embody the Calypso aesthetic. Everything is measured so we can track referrers, traffic, and sales. It's an example of efficient and qualified targeting at scale". Calypso St. Barth appears to be the first brand to enlist a 'power user' for marketing purposes.