More Awards For Leading Social Media Agency
As another social media gong lands in the Umpf trophy cabinet, we believe it cements our position as one of the top social media agencies in the UK.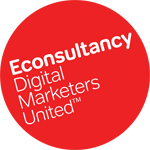 But it's not just ourselves and our clients who think so – Econsultancy listed its Top Ten Social Media Agencies in March, with Umpf making the grade.
In fact, Umpf was the only agency outside the South East listed in Econsultancy's Top Ten Social Media Agency table.
We're based in Leeds and we don't believe there's a finer social media agency in Yorkshire or the North.

A fact highlighted by today's news that Umpf has been voted the Best Social Media Agency in Yorkshire by The Drum magazine.
Its annual New Year's Honours list ranks agencies which have 'consistently produced top notch creative work and whose trophy cabinets are fit to burst'.
In the last 12 months we've won a raft of social media agency awards and PR gongs, too.
So if you want to give your social media some Umpf, drop us an email or give us a buzz on 0800 4 10 20 10.
If you're looking for a wider, global list, try this directory of social media agencies.