January & February's PR & Social Media Diary
Welcome to 2016! It's been a busy start to the year which is why our first PR & Social Media Diary is a bumper two-month bonanza (and is a little on the late side). We've been celebrating client wins and award nominations, inspiring the next generation of communicators and holding some fab events for very  different clients. Read on to find out more…
A winning start to the year!
In the first week back we hit the ground running for a new public sector client with a very niche brief. We're handling a large-scale social advertising campaign targeting a very specific audience group in the UK, South Africa, New Zealand, Canada and Australia. As well as managing media buying we're also inputting on creative and messaging. We can't say too much about this one BUT the results we're seeing to date are looking very rosy.
Lite-en up
The YESSS account team launched the stunning and innovative new lighting technology, Visualite by Luxna, at Time Inc. We welcomed trade and consumer journalists to the launch, including representatives from House to Home, Ideal Home, Homes and Gardens, Electrical Times and Lighting & Interiors.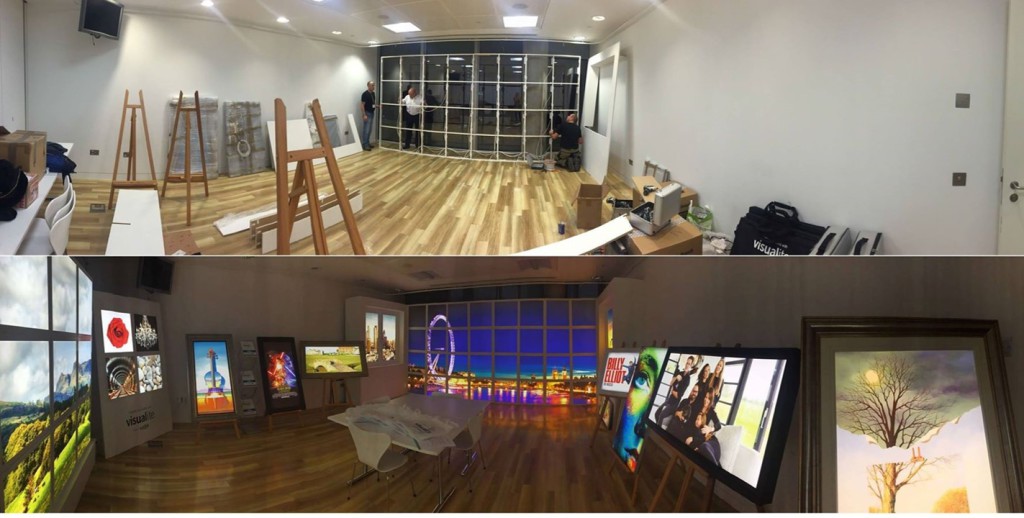 TMA (not TMI)
On 27 January we recieved word that one of our campaigns for Park Inn by Radisson, E-Scapes, has been nominated in the Travel Marketing Awards in the 'Most Innovative Marketing' and 'Best Use of Social Media' categories. Nathan and Matt will be representing at the glitzy awards do at the Grosvenor on 15 March.
Not a bad start to the day. Our E-scapes campaign has received 2 nominations for client @parkinn at #TTMA16! https://t.co/H1HoOuEic4

— Umpf (@Umpf) January 27, 2016
Grateful Eight
A couple of days later we were also thrilled to hear we'd been shortlisted for no less than EIGHT PR Moment Awards in the following categories:
Social Media Campaign of the Year – tWItterstitch for the National Federation of Women's Institutes
Consumer Campaign of the Year – The World's First Dog Selfie Mirror – Canidae UK
Most Innovative Use of Digital & Social Media – E-Scapes for Park Inn by Radisson
Culture, Media, Sport & Travel Marketing Communications Campaign of the Year  – E-Scapes for Park Inn by Radisson
Low Budget Campaign of the Year – tWItterstitch for the National Federation of Women's Institutes AND  The World's First Dog Selfie Mirror – Canidae UK
Integrated Agency of the Year
Small Agency of the Year
Well done @Umpf on being shortlisted for the 2016 PRmoment Awards https://t.co/j0AdzgAX66 pic.twitter.com/N66LVZyakg

— PRmoment (@therealprmoment) February 1, 2016
Delighted with our 8 nominations in the #PRMomentAwards! Congrats to everyone shortlisted https://t.co/xDvhmIt9m0

— Umpf (@Umpf) January 29, 2016
Flippin' fab coverage for Angelica
Heading into February, rooftop restaurant and cocktail destination Angelica hosted its #ShroveTuesdayChallenge to raise money for the Leeds Flood Appeal. Participants were challenged to eat a stack of 15 pancakes topped with whipped cream, golden syrup and fresh fruit in 15 minutes. For every successful attempt Angelica donated £10 to the fund. First to step up was our very own Nathan, but he only managed to eat five – very disappointing. We generated widespread coverage for the challenge in food and news sections in key regional titles including Yorkshire Evening Post, Yorkshire Post and Leeds Guide, and put Angelica firmly on the foodie map in February.
Here is our very own @nathanbrush about to start! Look at how big those pancakes are…#ShroveTuesdayChallenge pic.twitter.com/6mOeS2HIMT

— Umpf (@Umpf) February 9, 2016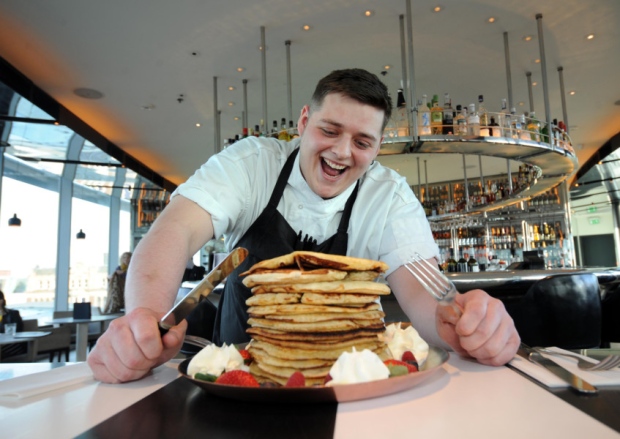 Generation Next
We attended a careers day at Leeds University during which we offered advice to current undergraduates in the School of Communications. Our AM, Amy sat on the  panel alongside representatives from the BBC, Sue Ryder and The Reading Room to answer questions from students about life in the communications industry.
We met some really enthusiastic students who were chomping at the bit to embark on a career in PR and Social Media. We wish them well!
.@amybyard has been speaking to @UniversityLeeds students about careers in #PR and #socialmedia today! pic.twitter.com/nOr6TiPQaE

— Umpf (@Umpf) February 10, 2016
Take it away
At the end of February we headed to the hills for our company away day and weekend team bonding. Nestled in the heart of the Yorkshire Dales (in the middle of nowhere) we took some time out to celebrate our successes and look to the future for the agency (and have a drink or two).
Hanging out under a waterfall with @amybyard and @EllieHallsworth pic.twitter.com/bEzB2tsV0O

— Alessandra Gritt (@GrittAlessandra) February 27, 2016
Coming up next month…
Come back next month for our news relating to…
A pop megastar
The UK's top pedigree pooches
An iconic athlete
And if you like the sound of what we do, email contact@umpf.co.uk for jobs, new business or any other enquiries or tweet us at @Umpf