I Want Never Gets – Facebook's new button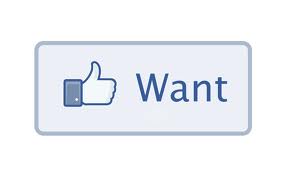 'I want never gets' we were told as kids – so what's changed?  Could it be that Facebook has bowed to pressure and realised that the simple 'like' button is no longer sufficient for increasingly sophisticated communication on the platform?
Rumours abounded last week, thanks to Inside Facebook, that Facebook was testing for a 'want' button to accompany the 'like' button. We're interested in this at Umpf Towers for a couple of reasons:
1. The new 'Want' button could be a signal that Facebook wants to capitalise on the rapid rise of Pinterest and the clear commercial benefit that brands have encountered through promoting their products on the platform. A 'want' function that is shared amongst friends has lots of benefit for brands wanting to sell on Facebook.
2. In diversifying the responses to comments, products and other actions, Facebook is continuing its move to becoming an all-sufficient website and discouraging users from leaving it to go elsewhere on the web.
So, here are seven reasons, we think, why Facebook should 'like' their 'want' button and launch it asap:
1. They can sell more through the site
2. They can take traffic away from Pinterest in the process
3. It will continue to underline Facebook's webiverse i.e. there'll be less reason for web users to go elsewhere online
4. Facebook users will love it and it will simply their purchase process
5. It will create column inches and further positive headlines for Facebook when it launches (and after the stock debut, they need all the positive headlines they can get)
6. Brands will increase their ad spend if they think there's further commercial gain
7. Sometimes 'like' just doesn't cut it…trust us, we know.
Why not give us your thoughts on the 'want' button – either message below or write to us @umpf on Twitter or email social@umpf.co.uk