How Much To Sponsor A Daily Mail Sidebar of Shame Story?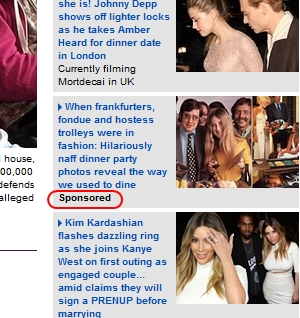 The Daily Mail's Mail Online is, love it or loathe it, the king of British newspaper websites.  Google any given story and eight times out of ten, the top result is a Mail Online one.   Its traffic is incredible (it's the world's biggest newspaper website) and it's also very sticky – read one story and, bam, you're in there reading two more; usually involving one of the Kardashians and false widow spiders (often in the same article).  And all of this is down to its 'Sidebar of Shame'. It's been described – by its own editor – as the "crack cocaine" of journalism.  No wonder then that it's now started selling Sponsored Stories on the sidebar.
My eagle-eyed colleague Matthew Balmforth spotted a sponsored story earlier today, above.  There, the eleventh story from the top on the Sidebar of Shame, sandwiched in between
"He's blonder than she is! Johnny Depp shows off lighter locks as he takes Amber Heard for dinner date in London"
and
"Kim Kardashian flashes dazzling diamond ring as she joins Kanye West on first outing as an engaged couple… amid claims they will sign a PRENUP before marrying"
is their first ever Sidebar-Sponsored story.
So what is this groundbreaking piece of sponsored Mail advertorial?  Drum roll…
"When frankfurters, fondue and hostess trolleys were in fashion: Hilariously naff dinner party photos reveal the way we used to dine"
Read it here.
So, which brand is behind this inaugural brand tie-up?  Why, Middle England-loving M&S, of course.  And the tie-up appears to be more than just a 'Promoted' label on the sidebar.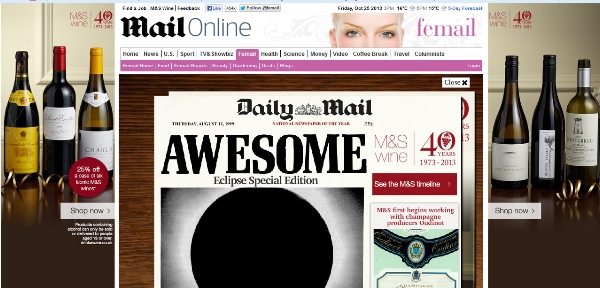 Click through to the story and you'll see the page is site-skinned with an M&S wine promo (25% off a case of six "iconic M&S wines" as you ask) and there's also a roll-over in the top panel (see image above) where you can read extra M&S content – in this case, news from each decade of the "40 Years of M&S Wine".
So, getting to the question posed at the top, How Much Does It Cost To Sponsor A Story in the Daily Mail Sidebar of Shame?  Answer: £60,000 for a 24-hour tenancy. And at that price, I'd expect the results not to be just any old results, but to be M&S results.
Meanwhile, back to one of those hilarious dinner party pictures…