Helping out @TheAshes During The Ashes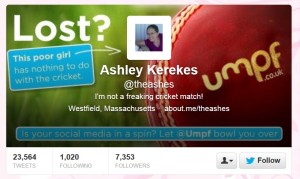 Ashley Kerekes is a name you may not be familiar with.  However, her Twitter handle, @TheAshes, is going to be a hot topic over the next six months with England and Australia fans giving each other some stick as their sides go head-to-head in one of sports fiercest rivalries.
This unfortunate coincidence in names resulted in Ashley's Twitter account being inundated with tweets during the last Ashes series back in 2010, leading her to change her profile to read "I'm not a freaking cricket match".
This caught people's attention and a campaign was started under the name #gettheashestotheashes, ultimately leading to Ashley – from Westfield, Massachusetts – being invited on a trip to watch one of the tests in Australia.
As a social media agency, here at Umpf, we like to keep social media organised and help out where we can.  So we approached Ashley several weeks ago and offered to design her a new Twitter header picture.
Tom Scott, Account Executive at social media agency Umpf, said: "We all felt sorry for Ashley during the last Ashes and here at Umpf we like to do a bit of 'social services' where we can, so we're delighted to be helping Ashley in what little way we can."
So, to anyone wanting to talk about The Ashes to @TheAshes, you have been told. It might be best to use #Ashes or even tweet @ECB_cricket or @CricketAus.
For anyone wanting to talk social media, talk to Umpf or Tweet us @Umpf.