Friday Social: 10k Tweets, #DrummondPuddleWatch & Inside The Algorithm
Our Friday Social is a weekly round-up of the key social media news stories from the previous seven days. Let us know your thoughts in the comments or via Twitter  – @Umpf /@nathanbrush #FridaySocial
#Twitter10k
It was reported this week that Twitter's 140-character limit will soon be a thing of the past. Twitter is said to be considering a 10,000-character limit, presumably where longer tweets expand to reveal the full content if a user clicks on them. Unsurprisingly, Twitter users didn't react too positively to the news, with #Twitter10k trending throughout Wednesday. CEO Jack Dorsey explained the company's thinking in the tweet below, where he has screenshotted a note and shared it as an image (a trick which will be made redundant by this change).
— jack (@jack) January 5, 2016
We particularly enjoyed Rafay's take on the news…
https://twitter.com/RafayHere/status/684955054214885376
Inside the Facebook algorithm
One of the most interesting reads this week was Will Oremus' experiences of visiting the Facebook offices in California. Oremus met with Tom Alison, Adam Mosseri and the rest of the news feed team to learn a little more about just how Facebook decides which stories it shows us and when. The way Facebook gathers data about its users' behaviour becomes more complex by the day, and as Oremus explains the news feed algorithm is 'really a sprawling complex of software made up of smaller algorithms'. Certainly worth a read.
#DrummondPuddleWatch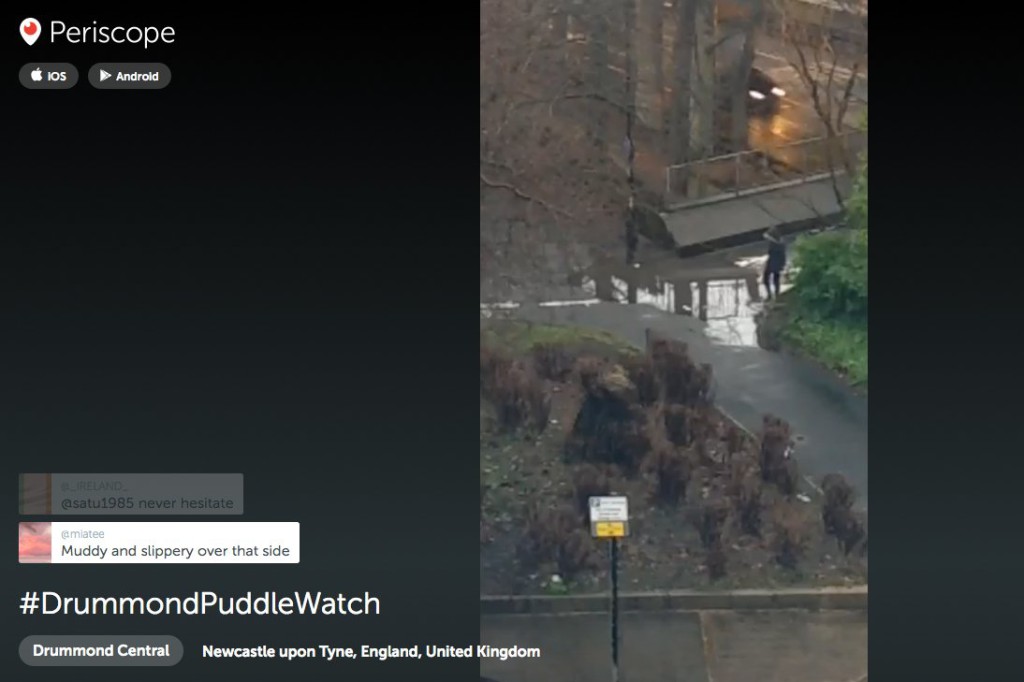 What more is there to say? On Wednesday afternoon, one puddle in Newcastle became world famous thanks to a 6-hour Periscope stream by puddle neighbours, Drummond Central. As people struggled to cross the body of water, more than 500,000 people tuned in to shout encouragement, abuse and general silliness in the comments. Naturally, brands were quick to piggyback on the trend, with Domino's popping down to feed visitors and Star Wars dramatising things to the max.
Domino's – delivering to puddles near you. #DrummondPuddleWatch ???? https://t.co/WDVJQbqbpy

— Domino's Pizza UK (@Dominos_UK) January 6, 2016
Crossing the Drummond puddle like… #DrummondPuddleWatch pic.twitter.com/XOI7VuCuLM

— Star Wars UK (@StarWarsUK) January 6, 2016
https://twitter.com/dothejobbetter/status/684752554048225280
Facebook crashing its own app
A report has accused Facebook of deliberately crashing its Android app for considerable periods of time in order to test its users' loyalty to the platform. The aim was to calculate how long users would continue to gain access to the social network despite the app not working, and the conclusion was that users simply wouldn't give up, often turning to the mobile web version instead. Facebook is reported to be testing solutions for bypassing the Google Play store should its relationship with its rival become tenuous. Facebook isn't shy to running experiments on the network, once altering the number of positive and negative posts and comments in users' news feeds to see if it would affect the overall mood of the network.
Zuckerberg's New Year's Resolution 

When he's not occupied with the above, in 2016 Facebook CEO Mark Zuckerberg will be busy building an AI system to run his home, which he has likened to Jarvis in Iron Man. This kind of challenge isn't a first for the billionaire; back in 2011 he pledged to 'only eat what he kills', and claimed it taught him a lot about sustainable farming and raising animals. You're putting us all to shame, Mark, and we wonder where you find the time!