Friday Social: YouTube's Take On Snapchat Stories, Facebook's New ID Rules and The Royal Wedding!
Our #FridaySocial is a weekly round-up of the key social media news stories from the previous seven days.  Let us know your thoughts in the comments or via Twitter – @Umpf
YouTube launches its own version of Snapchat 'Stories'
Facebook's done it, Instagram's done it – and now YouTube is doing it.
The Google-owned video site has announced it's jumping on the Snapchat 'Stories' bandwagon by launching its own version called 'Reels'.
'Reels' will allow users to splice together up to 30 seconds of video clips with stickers, filters, music and text.
However, unlike the other versions, YouTube's reels won't expire, and creators are allowed to host more than one at a time.
It's hoped that it will encourage more casual posts for when users may not want to take the time to upload a full video.
A spokesperson said the function is in a beta-testing phase. Keep your eyes peeled!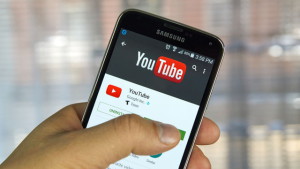 Facebook Asks For Proof of ID – Via Selfies
Facebook has started asking users to upload a selfie to verify they are actually real person and not a bot.
The automated photo verification process, which checks if the uploaded photo is unique, is reportedly being tested by Facebook on a small number of users.
https://twitter.com/flexlibris/status/935635282564734977
The photo verification process is an alternative to the CAPTCHA (Completely Automated Public Turing Test to tell Computers and Humans Apart) which requires users to pass a basic test to prove they are not spam-spreading bots.
Failing to comply with the rule has seen users locked out of their account.
The company has confirmed that asking for a picture is part of its ongoing efforts to "catch suspicious activity" and prove the account holder is "a real person".
Google Software Detects Nosy Parkers
Do you ever get the feeling someone is looking over your shoulder at your phone?
If so, Google researchers are developing an AI tool that will put your mind at rest.
Research is being carried out into new software that will be able to spot when someone is sneaking a peek at your screen.
Google hasn't responded to the claims about its research just yet, so we'll have to wait and see…
Trump Stirs Up Twitter Hatred… Again
It seems Trump still hasn't got the hang of Twitter yet…
After getting into a spat with UK Prime Minister Theresa May as to whether or not he was being racist and thoroughly misinformed (we all know the answer to that), POTUS Donald Trump retaliated with a tweet in her direction.
He told @theresamay: "Don't focus on me, focus on the destructive Radical Islamic Terrorism that is taking place within the United Kingdom. We are doing just fine!"
The only problem was, he sent it to the wrong Theresa May.
Trump subsequently deleted the tweet, and tried again 20 minutes later – this time using the correct @theresa_may Twitter handle.
The recipient of the first tweet's real name is Theresa Scrivener, a 41-year-old woman from Bognor, with six Twitter followers.
She said: "I wasn't really sure what to make of it. I was in bed by half-10 last night and oblivious to it all. It has been very surreal. I haven't been able to leave my house. I've been bombarded and been contacted by press from around the world."
She added: "It's amazing to think that the world's most powerful man managed to press the wrong button. I'm just waiting for a call from the White House with an apology."
Think you'll be waiting a while, Theresa…
So have to say that Bognor's @theresamay is bloody brilliant. "If I wanted to be famous, I'd have gone on the X-Factor!" https://t.co/ntcdqo3u2w

— James Savage (@SavLocal) November 30, 2017
And Finally…
Twitter, Facebook, and basically the whole world went into meltdown this week as Meghan Markle and Prince Harry announced their royal wedding.
The news of their engagement sent Twitter into overdrive, with many taking to the social media platform to announce their joy…
Michelle and I are delighted to congratulate Prince Harry and Meghan Markle on their engagement. We wish you a lifetime of joy and happiness together.

— Barack Obama (@BarackObama) November 27, 2017
Whilst others wanted answers….
The world: Prince Harry is going to marry Meghan Markle!
The UK: …Do we get the day off? pic.twitter.com/0UBYCIV8bf

— Mark Lankester (@markrlankester) November 27, 2017
In short, the answer is no, sadly.
We're just awaiting our invite in the post…